"
She's confident, she's fun. Girl's just all around awesome.
"
Click here to see more quotes.

Amy Abigail[4] is a lyrical and acro dancer on TNS East.[5][6]
Amy auditions for and makes it onto A-Troupe.[7][8] After the team's loss at Regionals, Amy's mom becomes extremely invested in her dance life.[9][10]
Despite an excellent audition, Amy does not make it onto A-Troupe the following dance season due to questioning Emily.[11] As a result, Amy is demoted to B-Troupe.[11] She begrudgingly joins TNS West, but continues to lie to her mother that she is on A-Troupe. Eventually, her mother discovers the the truth, and she is pulled out of the studio.[4] With Piper's help, she makes it onto TNS East, but at the cost of Piper's spot.[6]
Biography
Before the show
At a dance competition, Amy performed a solo and ripped her pants while doing the splits. Not wanting the audience to see the tear, Amy performed the rest of the dance with her legs together, even while performing acro.[12]
Amy was once cut from a dance team because she could not master a double-back-handspring-back-layout. She practiced the move all summer in the hopes of making the team the next step she auditioned, but was unsuccessful.[13]
During one summer, Amy worked at a gas station.[14]
Amy arrives at The Next Step for the open house where she meets Cassie in the Rehearsal Room. There, she witnesses Richelle dancing, which makes her fear that she won't make it onto A-Troupe.[15]
Amy makes it into A-Troupe, but her nerves are far from dispelled.[8] To reduce her fear, she joins the Zero Percent Club alongside Cassie, Sloane and Piper.[8]
After making it into the small group for the second qualifier, she is approached by LaTroy for help with his contemporary. She agrees and utilizes unconventional teaching methods to help LaTroy learn a contemporary combo. She confesses that working with LaTroy is "nice" and grows closer to him.[1]
Amy eventually comes to like LaTroy romantically and frankly tells him that they should do something about the chemistry between them. In response, she gets asked out by LaTroy which excites her to the point that she tells almost everybody in A-Troupe.[3] When Amy discovers that Sloane likes LaTroy but that LaTroy does not feel the same way, she asserts that she and LaTroy should continue dating. As a result, her friendship with Sloane deteriorates, much to her discontent.[3]
Amy is saddened to learn that LaTroy will be leaving The Next Step indefinitely to renovate a farmhouse with his dad but is supportive of him since she knows that LaTroy is doing what is best for him.[16]
Amy receives an anonymous message that beckons her to the Lounge. Once there, she finds Henry and Sloane; Henry tells her that somebody—who is likely LaTroy—wants her to audition for the qualifier duet with Amy. Hoping this will allow her relationship with Sloane to be renewed, she does so.[17]
When forced to clean the mirrors in the Rehearsal Room with her, Amy tries to get Sloane to warm up to her by telling her about her job at the gas station. Amy is ecstatic when her attempt to rekindle her relationship with Sloane finally works.[14] Additionally, Amy helps Sloane mend her relationship with LaTroy.[18]
Amy runs for the title of dance captain, but does not get it due to her distracted nature and poor public speaking skills. She is hardly upset about the loss though, as she gets to keep the light bulb that she used in one of the tasks.[2]
Amy is ecstatic when LaTroy returns.[19] Her affection for LaTroy grows immensely to the point that she realizes she is in love with him. Although wary of telling him at first, she eventually reveals the truth after sharing her first kiss with him and is over-the-moon when he resounds the proclamation.[20] Amy is heartbroken and angry when LaTroy eventually breaks up with her, and tearfully realizes that he lied when he said he loved her.[9]
Amy grows concerned as her mother, a former dancer, vows to be more involved in her dance.[10]
Amy is wary of Emily being the new studio head, believing the troupe will devolve into one full of robots. When Emily demotes various dancers, including LaTroy and Ozzy, to B-Troupe before even seeing them audition, Amy begins to voice her disbelief, but is silenced by Emily. Despite her excellent audition, it is this outburst that causes Amy not to qualify onto A-Troupe and be demoted to B-Troupe. Amy is left devastated, especially since Piper makes it onto A-Troupe. Amy knows that she cannot tell her mother the truth.[11]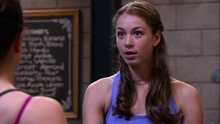 Amy begrudgingly joins TNS West, but is wary of the lack of technical training in the troupe. Amy continues to lie to her mother and eventually pulls Piper into her lying as well, and gets her teach her the troupe's choreography. Amy unintentionally gets Piper into trouble with Emily for teaching her choreography, angering Piper to the point that she tells her she will not talk to her until Amy tells her mother the truth.[21] Amy is left even more devastated as her relationship with Piper continues to digress.[22]
When Amy finally finds herself feeling at home at TNS West, her mother discovers the truth about her dance life. Consequently, Amy is forced to leave the studio.[4]
Forlorn about being unable to dance and having nothing to lose, Amy takes part in Piper's plan to get her to be an alternate on TNS East. After begging Emily to let her dance, Amy performs some of Daniel's choreography and makes it onto the troupe. Amy comes to realize that she has taken Piper's spot on the team and tells Piper that she will try to get her back onto the team, although Piper is unresponsive to the idea.[6]
Personality
Amy is a confident and forward individual who has a sunny and positive outlook on life. Amy is incredibly empathetic and loving and rarely holds an unhappy disposition.
Amy can come off as very silly and air-headed under pressure, proven while running for the title of dance captain.[2] Although Amy has few negative qualities, she is poor at public speaking and is easily distracted.
Physical appearance
Characteristics
Amy is slim. She has blue-green eyes and freckled light skin. Initially, her hair is light brown but is golden brown in Season 6. She is often seen smiling.
Attire
Amy usually wears blue or green. She typically wears black shorts or black leggings.
Abilities
Dancing
Jazz: Although Amy is said to be a jazz dancer, she does not seem to perform much of it. When she does perform it though, she does so with much proficiency.
Acro: As well as a jazz dancer, Amy is an acro dancer. Acro appears to be Amy's strongest style. Amy's acro has even been compared to Giselle's.[11][6]
Contemporary: Amy is a proficient contemporary dancer. She successfully teaches LaTroy a contemporary combo, of which he successfully performs and is complimented by Sloane on.[1]
Relationships
Main article: Amy/Relationships
Appearances
Dances
"I'll get to you when I get to you!" - The missing information in this section of the article is to be added.
Solos
Duets
Trios
Group dances
Trivia
Amy's greatest fear is that she'll forget the choreography for the routines.[8]
Amy is named after Amy Wright, the choreographer for The Next Step.[23]
Quotes
Main article: Amy/Quotes
Gallery
"Look at that painting!"

To view the Amy (Season 4) gallery, click here.
References
↑ 1.0 1.1 1.2 "The Game Belongs to Me." Wikia. Retrieved on April 6, 2016.
↑ 3.0 3.1 3.2 "I Only Have Eyes for You." Wikia. Retrieved on May 20, 2016.
↑ 4.0 4.1 4.2 "It's All Fun and Games...." Wikia. Retrieved on May 27, 2017.
↑ "United and Divided." Wikia. Retrieved on August 10, 2017.
↑ 6.0 6.1 6.2 6.3 "No Good Deed." Wikia. Retrieved on July 6, 2017.
↑ "Stir It Up." Wikia. Retrieved on May 20, 2017.
↑ 8.0 8.1 8.2 8.3 "Welcome to the Jungle." Wikia. Retrieved on March 12, 2016.
↑ 9.0 9.1 "A Change Is Gonna Come." Wikia. Retrieved on May 20, 2017.
↑ 10.0 10.1 "Amy's Personal Life." Wikia. Retrieved on May 20, 2017.
↑ 11.0 11.1 11.2 11.3 "The New Regime." Wikia. Retrieved on May 27, 2017.
↑ "Simple Twist of Fate." Wikia. Retrieved on April 30, 2016.
↑ 14.0 14.1 "Kiss and Tell." Wikia. Retrieved on October 15, 2016.
↑ "One More Time." Wikia. Retrieved on February 15, 2016.
↑ "How Deep Is Your Love." Wikia. Retrieved on June 20, 2016.
↑ "Heat of the Moment." Wikia. Retrieved on June 24, 2016.
↑ "Karma Police." Wikia. Retrieved on November 26, 2016.
↑ "It Ain't Easy." Wikia. Retrieved on May 20, 2017.
↑ "Even Better Than the Real Thing." Wikia. Retrieved on May 20, 2017.
↑ "Dance, Lies and Hoverboards." Wikia. Retrieved on May 27, 2017.
↑ Is Amy (Shelby) really named after Amy Wright? Are there other characters named after someone? | ask.fm/TheNextStepDance. ask.fm (May 26, 2016). Retrieved on May 27, 2016.
Ad blocker interference detected!
Wikia is a free-to-use site that makes money from advertising. We have a modified experience for viewers using ad blockers

Wikia is not accessible if you've made further modifications. Remove the custom ad blocker rule(s) and the page will load as expected.