Click here to see more quotes.

Beth is a contemporary dancer on B-Troupe.
Beth is introduced as James' ex-girlfriend who is still crazy about him. Throughout the series, Beth's main purpose is to pursue James to no avail, until she finally lets go of him.[1]
Biography
Before the show
Beth joined The Next Step Dance Studio. Beth joined J-Troupe.[2] Later, Beth joined in B-Troupe and momentarily dated James.
Beth is in B-Troupe and merely wishes to be in A-Troupe to rekindle her relationship with her ex-boyfriend James. She eventually tells James that she loves him at Regionals.[3]
Beth is granted a duet at a competition because she is upset about not making it into A-Troupe. After Charlie bails on her as her partner, James becomes her partner.[4]
While practicing for the duet one day, Beth kisses James.[5] She is notified by James that Riley saw the entire scenario and that he, therefore, cannot compete in the competition with her.[6]
Beth walks in on James talking to Riley. She sees Riley break up with James and attempts to console him about the situation. She tells James that she understands if he no longer wants to compete in the duet competition, but is happy when he decides that he will go with her.[6] Shortly after placing second in the duet competition, Beth begins to date James, much to her content.[7] She believes that James loves her as much as she loves him until she is told by Hunter that James is completing a list to get back together with Riley. Hearing this, Beth finds a four-leaf clover for James, knowing that he needs it for the list. She brings the four-leaf clover to James and explains that she understands that while she loves him, he loves Riley. Beth decides to finally let James go.[1]
Beth is ecstatic to be paired with Stephanie for a duet. Although, she is more inclined towards going shopping and getting her nails done with Stephanie rather than dancing with her. When she is told by Stephanie that they need to practice because she wants the duet to be great, Beth fully understands, which leads to the creation of a stellar duet.[8]
Personality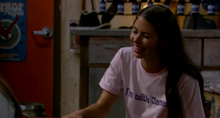 Beth, although perky and well-meaning, is extremely annoying and idiotic. She finds illogical things comedic, including, but not restricted to: Charlie and Zach's "caveman" dance[9] and James's story about his uncle Manny.[5] Despite being incredibly friendly and loving, she does not seem to understand boundaries and her care often borders on obsession. She is very superficial and cares about fashion and shopping above most other things.
One of Beth's worst qualities seems to be her hopeless delusion. She is unable to take hints despite how obvious they are, and often takes a long time to comprehend the simplest of notions. She is prone to readily and forcefully believe things that are far from the truth.
Physical appearance
Characteristics
Beth has long dark hair, olive skin, and blue eyes which are accented with blue eye shadow in Season 2. She is often seen laughing or smiling.
Attire
While dancing, Beth usually wears a vibrant tank top or shirt and shorts. Beth's casual wear is only shown briefly during the time in which she is dating James; she is seen in a shirt that reads "I'm with James" regularly.
Relationships
Main article: Beth/Relationships
Appearances
Dances
"I'll get to you when I get to you!" - The missing information in this section of the article is to be added.
Trivia
Quotes
Main article: Beth/Quotes
External links
Gallery
"Look at that painting!"

To view the Beth gallery, click here.
References
Ad blocker interference detected!
Wikia is a free-to-use site that makes money from advertising. We have a modified experience for viewers using ad blockers

Wikia is not accessible if you've made further modifications. Remove the custom ad blocker rule(s) and the page will load as expected.