Click here to see more quotes.
Daniel is a former member of A-Troupe, a studio he quits when he is not granted the Nationals solo. He momentarily attends Superstar Dance Academy but eventually quits when offered a place at Juilliard. After he bombs his audition, Daniel resorts to being a member of Elite Dance Academy but eventually quits.
Biography
Before the Show
Daniel started dancing when he was seven.[1] He had been mentored/taught how to dance by Giselle, his best friend who he met when he was 5 years old.[2]
A year before the first season, Daniel was a member of B-Troupe.[3]
After making it into A-Troupe, Daniel is granted a solo to be showcased within the finals routine at Absolute Dance Regionals.[4] Around this time, his ankle begins to act up from a previous injury. Fearing he will lose his solo, Daniel refuses to notify anybody about the pain, although James inadvertently finds out when the two converse at Squeezed one day.[5]
Earlier, West approaches him, and tells him about Michelle, Riley, and James's plan to dethrone Emily as Dance Captain and replace her with Michelle; a dance routine to be shown to Kate. He agrees to join as long as he is able to keep his solo; he is granted such a request.[6] The plan ultimately works.[7]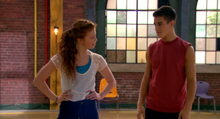 When Giselle rejoins A-Troupe, she insists on adding an overhead lift known as "the helicopter" to the Regionals routine, and Kate refuses, thinking that it is too dangerous. Giselle, Daniel, and Michelle go behind her back, with the former and the latter thinking that the lift is a good idea, especially since Giselle and Daniel had previously executed the lift countless times. Daniel is skeptical due of his ankle because, although fine recently, it could easily act up. Wanting to please Giselle, he eventually gives in; he and Giselle perfectly perform it for Michelle.[8]
The plan being to spring the flawless lift as a surprise during practice, Giselle and Daniel disperse during the routine and attempt to perform the lift. Unlike before, Daniel's footing slips, and he falls to the ground in pain. After going to the hospital, he returns to the studio on crutches; he has obtained a grade three ankle sprain meaning that he cannot have the solo nor go to Regionals.[8]
With a now healed ankle, Daniel returns to A-Troupe. He becomes angry with Kate's patronizing treatment of him and feels as though she sees him as an "injured bird" rather than the great dancer he is.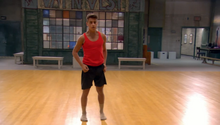 Daniel auditions for the solo,[9] and the small group alongside Chloe and Hunter,[10] and receives neither. He grows angry, as he knows that he is a good dancer, and feels as though Kate is purposely omitting him from a featured spot at Absolute Dance Nationals.
Officially fed up, Daniel approaches Kate with an ultimatum: if he does not get the solo, he will leave to attend Superstar Dance Academy (as Chris is willing to grant him the solo). Kate says no. Daniel admits that while he doesn't want to leave, he still will. He does so without even telling Giselle.[11]
At Nationals, Daniel is presented as very cold and loathing; he brushes off Giselle, antagonizes Eldon, and ignores Kate. Now overwhelmingly overconfident because he has improved in his dance, he faces Eldon in the male solo round with the sureness that he will win. When he doesn't, he is devastated. He comes to his senses and apologizes to Giselle at the after party for his previous behaviours. She forgives him, but their conversation is cut short when Sergei, the head of Juilliard, approaches him with the offer to attend the aforementioned prestigious academy.[12]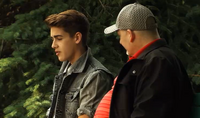 Daniel bombed his Juilliard audition and now has nowhere to dance (because he quit Superstar Dance in order to practice). Lucien approaches him with the offer to dance with Elite Dance Academy against The Next Step for a shot to go to Absolute Dance Internationals. Desperate, and not caring about the obvious betrayal to his former team, he accepts the offer.[13]
Daniel enters Studio A wearing an Elite sweater and is instantly embraced by Giselle. When she asks him why he is there and he tells her, she is devastated and angry with him. Eldon rushes in and challenges him, accidentally spitting on Daniel in the process; Daniel wipes off the spit and rubs it on Eldon's shirt.[14] Onward, he continuously discredits The Next Step and its dancers. Daniel takes part in a plan with Lucien and Tess to bring down the studio; he switches the names for the dance battle so that James picks Riley, expecting it to tear the team apart.[15]
Daniel is forced to dance against Giselle. Much like at Nationals, he is sure he will win, but is surprised when Giselle pulls off a stellar routine. Giselle beats him easily, and he leaves, probably knowing that their friendship is over.
[16]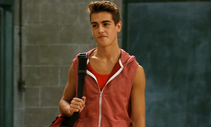 Daniel returns to the studio when Chloe leaves to audition for the empty spot on A-Troupe. When he is met by scorn and anger by his former friends, he is surprisingly hurt as he thought that they would stand by him. When he is not picked to be on the team, he leaves the studio, realizing that he has been mean.[17]
After hearing that Lucien is a judge for Internationals, Daniel flies to Miami to prevent it. Despite being brushed off by Giselle, Daniel still manages to send her the video that he took, back when he was with Elite, of Lucien speaking of how he will destroy the studio. Daniel is happy when Lucien is removed from the judging panel, and when The Next Step wins the competition.[18]
Upon Kate's invitation, Daniel becomes the guest choreographer for the morning auditions for A-Troupe. He feels honoured by this gesture and reminisces on the first time he auditioned for Kate.[19]
Personality
Daniel is an inadvertently dramatic character, who is very determined, although hard on himself. This is proven when he does not notify anyone that he has injured his ankle in fear that he will lose his solo. Although, this also makes him selfish.
He only becomes more selfish and self-absorbed during Season 2, when he does not get the solo for Nationals.[9] This causes him to give Kate an ultimatum: give him the solo, or he'll leave to go to Superstar Dance.[11]
After losing at Nationals and ruining his chances at getting into Juilliard, his attitude worsens. Daniel becomes desperate to get an opportunity to dance, and despite his self-piteous interior, he comes off as extremely arrogant and cold. After failing at his attempt to be on The Next Step's Internationals team once again, he comes to realize that he has been mean.[17] When Daniel returns in Season 4, he seems to have reverted to his initial personality.
Physical appearance
Characteristics
Daniel has dark eyes and olive skin. His hair is dark brown during Season 1 and Season 2 and turns slightly lighter from Season 3 onwards. 
Attire
Before his antagonistic characteristics present themselves, Daniel's wardrobe consists mostly of red. In early Season 3, he wears the Elite uniform, with a blue undershirt, and black shorts. As his personality begins to revert to his initial one, his wardrobe slowly follows. In Season 1, his street-wear consists of red and blue checkered shirts with light brown shorts. Later, Daniel alternates between a leather jacket and a short-sleeved denim jacket, and generally wears darker colours. In Season 4, Daniel wears periwinkle.
Relationships
Eldon
Eldon is Daniel's best friend. Daniel has described Eldon as like his "brother".[20]
Giselle
Giselle is the one who taught Daniel how to dance in the hopes that one day they could dance together in A-Troupe.[2] Giselle and himself have a strong bond and still practice together, even when Daniel is in A-Troupe and she is in B-Troupe.
Giselle and Daniel don't see each other for a while after Daniel joins Superstar Dance, but in they are later reunited at Absolute Dance Nationals. At first, Daniel gives her the cold shoulder because he is trying to stay focused on his solo, but at the Nationals party afterwards, they make up and Giselle is happy for him when Daniel gets asked to audition for Juilliard.[12]
In Season 3, Daniel, desperate to dance, goes along with Lucien's plan to bring down The Next Step. This strains their relationship. When they are forced to dance against each other, Giselle finishes in front of him, expressing her anger and hurt. She implies in Talking Heads that they are no longer friends.[16]
Thalia
Daniel is threatened by Thalia during auditions, as they have similar dance styles, creating tension between the two.[21] When both of them make the team though, this is resolved.[22]
Appearances
Dances
Trivia
Quotes
Gallery
"Look at that painting!"

To view the Daniel gallery, click here.
References
Ad blocker interference detected!
Wikia is a free-to-use site that makes money from advertising. We have a modified experience for viewers using ad blockers

Wikia is not accessible if you've made further modifications. Remove the custom ad blocker rule(s) and the page will load as expected.