"I think Kate and Chris's dance is great for two old people."

This article needs to be updated. This page is currently out of date and needs to be infused with recent information.
"
Then we have Giselle who is amazing and dedicated and everyone loves her and I know she always does what's best for the team.
"

— Michelle, in "I'm Your Captain."
Click here to see more quotes.
Giselle is a professional dancer. She is a former member of A-Troupe, a troupe in which she was briefly Dance Captain.
Biography
Before the show
Giselle was a very hyperactive child. Worried about her state, Giselle's parents consulted a few other people, who suggested that Giselle be enrolled in dance. As a result, Giselle joined The Next Step Dance Studio at age five and immediately felt at home.
Giselle met Daniel at this time and he became her best friend. She eventually mentored him.[5]
Giselle started learning acro when she was seven and, shortly afterwards, went to circus school as a contortionist.[6] When she returned to The Next Step, she learned all of the remaining dance styles.[6]
Giselle started to play soccer, but eventually quit due to ensuing pain in her legs..[7]
Giselle was promoted to A-Troupe where she became a member of E-Girls.
Giselle does not make into A-Troupe and is demoted into B-Troupe, as well as kicked out of E-Girls by Emily. Giselle realizes that she didn't make it into the troupe because she didn't push her self; she promises that she will never make that mistake again.[8]
Giselle practices her dancing day in and day out in the hopes of being promoted to A-Troupe and leaving B-Troupe for good. She despises being in the B-Troupe due to its lackadaisical nature and prays to be able to get out of it.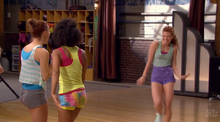 Giselle itches to audition for A-Troupe when a spot opens up.[9] She is ecstatic when she makes it back into the troupe.[10] Giselle wishes to make her mark in the troupe by performing the Helicopter Lift with Daniel, regardless of Kate and Chris's wariness. With Michelle's help, Giselle manages to perform the lift with Daniel during rehearsal, but it does not go as expected; upon doing the lift, Giselle watches Daniel fall to the ground in pain. She is devastated to discover that he has a grade three ankle sprain and will thus be unable to compete at Regionals.[11]
After making it into A-Troupe, Giselle befriends Thalia and Amanda. She auditions with them for the Nationals trio and is granted the routine.
Giselle is saddened to discover that Daniel left The Next Step for Superstar Dance Academy in order to have the male solo for Nationals, especially since he didn't tell her.[12]
Upon seeing Riley and James's struggling with their duet, Giselle concocts a plan: she and Thalia create a faux duet meant to motivate James and Riley to work harder. Unfortunately, the plan fails and Giselle is given the duet.[13] Knowing that she cannot do both the trio and the duet, Giselle tries to convince James and Riley to take the duet back, but they refuse it.
After the truth about Amanda's nature is revealed, Giselle no longer gets to be featured in the Nationals trio. After James and Riley get back together, Giselle offers them the duet once more and, this time, they accept it.[14]
Giselle is ecstatic to see Daniel at Nationals, but is shocked to be met with coldness on his part. At the Nationals party, she is apologized to him and rekindles her friendship with him. She is happy for him when he is granted the opportunity to audition for Juilliard.[15]
Giselle is angered and astonished when Daniel joins Elite, meaning that he will be competing against The Next Step in the dance battles for Internationals.[4] Giselle competes against Daniel in the dance battle and is overwhelmed with emotion when everybody votes for her, especially after everything that she had to go through.[16]
Giselle is Shantel's duet partner for an exercise, but comes to dislike her due to her stubbornness.[17]
After Michelle steps down from the position, Giselle is initially chosen by Kate to be the new Dance Captain. But, after Shantel expresses her wish to be Dance Captain as well, a trio competition ensues; the leader of the better trio will become Dance Captain. Giselle struggles with commanding her group and, after seeing how easily Shantel commands hers, begins to doubt herself. She receives words of advice and encouragement from Michelle and, with her newfound confidence, becomes the new Dance Captain.[18]
Wishing to be the best Dance Captain she can be, Giselle consults Michelle once again. She works through a series of exercises with J-Troupe in an attempt to hone her skills, but it ends in failure. After her defeat, she receives the Dance Captain Diary from Richelle which gives her a boost of confidence.[19]
At A-Troupe's party, Giselle is enamoured by Theo, and confesses confesses that she has a crush on him. When, she is asked by him to dance, Giselle happily accepts.[20]
Upon Ella stealing Riley's at Internationals, Giselle proposes that she teaches Riley a solo that she made. Although, with no time to do so, Giselle is put into costume and thrust onto the Internationals stage to perform the solo. Despite her exceptional solo, her outstanding performance is not enough to win the title of Miss Nationals Soloist.[21]
Giselle is shocked to discover that the two to seven person dance she is a part of is to be done blindfolded. Although, with the inclusion of Noah, she and her group advance to the quarter finals.[22] Giselle competes in the quarter finals and helps the team advance to the semi-finals.[23]
Giselle is angered at Daniel's arrival to Internationals and despite his apology, Giselle yells at him and brushes him off completely. She later receives a video from him of Lucien attempting to take down the studio, which works to get him fired as judge of the finals. Despite not formally reconciling with Daniel, Giselle admits that there may be hope for him.[24]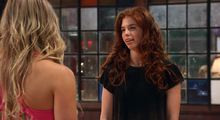 After leading the team to success at the highest level, Giselle decides to audition for a world touring dance company.[25] After telling Michelle and Amanda about this intention, she is met with interest by Amanda who wished to audition as well.
On the day of auditions, Giselle reconciles with Tiffany. After being called back, Giselle makes it onto the tour.[26]
Personality
Giselle is, at first, seemingly too sure of herself and comfortable with her dancing presumably because of her membership to the E-Girls. This contributes to her demise, as playing it safe with her dancing gets her cut from A-Troupe and subsequently, the E-Girls.[8] This lackadaisical persona is brief, though, because from that point on she becomes relentlessly determined and hardworking, and promises that she will never get too comfortable again.[27] This claim is furthered in her distaste for the comedic nature of B-Troupe.
When she returns to A-Troupe, Giselle is shown to be extremely friendly, animated, and funny. She can be seen making jokes very often, but also knows when it is time to be serious. In addition, it is revealed that she has a very strange laugh.[10] She is liked by all of the members in A-Troupe and is never involved in major conflict. Despite her care-free nature, Giselle is also able to put her foot down and stand up for what is right. She is also somewhat of an idealist and always wishes to accommodate everyone, even when such a task is implausible. Furthermore, Giselle is very competitive.[28]
She is helpful and empathetic, as she had taught Daniel how to dance in the hopes that he could be a professional,[5] and is the only dancer who understands why he leaves the studio.[15] Giselle always takes the ideas of her colleagues into consideration and is willing to incorporate the other dancers' strengths, ultimately leading to her becoming Dance Captain.[18]
Physical appearance
Characteristics
Giselle has dark red hair that is curly in Season 1 but wavy from Season 2 onward. She has blue eyes and pale skin.
Attire
Giselle typically wears purple and blue in the early seasons, but her wardrobe becomes more versatile upon Season 3. Her attire is generally comfortable, but can be stylish and girly on necessary occasions.
Abilities
Dancing
Acro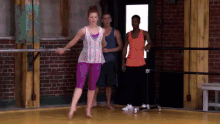 Acro is Giselle's dominant style, as well as a genre that she is highly proficient in. On more than one occasion, her companions have commented on her flexibility and ability to perform illogical contortions. Her signature move is the Spider and she is the only known dancer who is able to master it.[7]
Hip-hop
Giselle is proficient in hip-hop. She is one of the focal dancers in the music mystery routine at Internationals, which is a hip-hop routine.
Ballet
While Giselle is proficient in ballet, it isn't her strongest style. In the Spanish broadcasting of some episodes of Season 3, Giselle (in her Talking Heads caption) is said to be a ballet dancer. Noah has been shown to be able to do more pirouettes than her.[29] In a white walls transition, she does eighteen consecutive pirouettes. Giselle teaches a ballet class in The Next Step Dance Academy.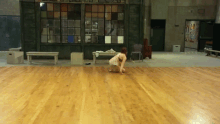 Jazz
Giselle is quite proficient in jazz. During much of Season 2, Giselle is a focal dancer in a jazz trio that is meant for Nationals.
Contemporary
Giselle has said that contemporary is one of her two main styles.[Reference needed] She has also said that she likes to add a contemporary feel to her acro.[30]
Relationships
Daniel
Giselle has known Daniel since she was five,[31] and originally considers him to be her best friend. Giselle falls out it with Daniel when Daniel joins Elite; she wants wants nothing to do with Daniel and does not trust him, a fact that she expresses when Daniel approaches her at Internationals.[24] Although, after Daniel assists in getting Lucien fired as an Internationals judge, Giselle believes that there may be hope for Daniel, leaving the state of their relationship unknown.[24]
Shantel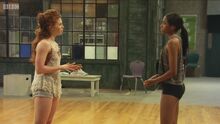 When Shantel enters A-Troupe, she is chosen to be Giselle's partner for a duet. Despite the duet's purpose being for the two to get to know one another, Giselle realizes that Shantel only cares about having a perfect routine and has no interest in her. When they are asked to finally perform their duet, Shantel refuses to and Giselle does it by herself. Although she bows out, Shantel still has the audacity to critique Giselle's dancing, astonishing her.[17]
The two have another negative encounter when they both vie for the position of Dance Captain. Giselle is originally selected, but Shantel is insistent on having a chance. The two are asked to choreograph a trio, with the leader of the best one being chosen as the troupe's new Dance Captain. Giselle is picked over Shantel, resulting in Shantel quitting the team,[18] leaving their relationship on a sour note.
Theo
Giselle reveals that she has watched Theo perform several times, and has a bit of a crush on him.
Appearances
Trivia
If she had to pick a person to dance with, she would choose Michael Jackson or Beyonce.[7]
If Giselle had to be a jam or jelly she would be strawberry, because her hair is red.[7]
Giselle's parents are divorced.[33]
Quotes
External links
Gallery
"Look at that painting!"

To view the Giselle gallery, click here.
References
Ad blocker interference detected!
Wikia is a free-to-use site that makes money from advertising. We have a modified experience for viewers using ad blockers

Wikia is not accessible if you've made further modifications. Remove the custom ad blocker rule(s) and the page will load as expected.