"Spoiler alert—he dies at the end."

This page contains prominent information about something that has yet to come, or that has been recently released. By choosing to read on, you are consenting to viewing possible spoilers.
This article is about the character. You may be looking for the episode. You can find the disambiguation page here.
Heather is a dancer on TNS West and a barista at Neutral Grounds.
Heather was a top dancer at Dance Inc., competing at both the qualifier and as a featured dancer at Regionals.
The cost of dance eventually became too high for her parents, so Heather was forced to quit dance.[1] Wishing to help her parents, Heather eventually gets a job.[2]
Biography
Edit
Before the show
Edit
Heather joined Dance Inc.
A member of Dance Inc., Heather performs in the winning trio at the qualifier for Regionals.[3] At Regionals, she performs in the freestyle solo round for her studio and wins, taking her studio to the quartet round.[4] She also performs in the quartet round, leading the team to the semi-finals, where the team loses.[5]
After quitting dancing because her parents are unable to afford it any longer, Heather applies for a job at Neutral Grounds.[1][6] Despite both Piper and Michelle recognizing her, she still refuses to acknowledge her past dance life.[6][2]
Heather is put off by Ozzy's attempt at flirting, but becomes more understanding when Henry explains that Ozzy is trying to help him get over his ex-girlfriend. Thinking Henry needs a girl's perspective, Heather listens to Henry's predicament.[7]
Heather accompanies Henry to Studio A. When she is left alone in the studio, Heather does a flip, and confesses that even though she can no longer dance, she will always be a dancer.[7]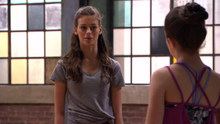 Heather is embarrassed when Piper and Amy see her dancing her. She continuously refuses to tell Piper about her experiences with dance when she urges her to, but eventually agrees to dance in Studio A. Heather reveals to Piper that due to her big family, her parents were no longer able to pay for her dance and she had to quit.[8]
Heather is angry to learn about the dance-a-thon, especially since it means that everybody now knows about her monetary insecurities. Although, when Piper is unable to dance, Heather agrees to take her place. She ends up tying with Henry for first place and decides that she will join TNS West.[9]
Personality
Edit
Heather can be quite snarky and cynical, but is not mean. In fact, Heather is quite considerate and empathetic, seen when she gives Amy a free drink because she looks sad.[7] Heather is also a great listener, and willing listens to Henry's girl troubles.[7]
Physical appearance
Edit
Characteristics
Edit
Heather has light skin, blue eyes, and straight long dark brown hair. Heather wears braces. She is considerably tall.
Heather is usually seen in her Neutral Grounds uniform, which consists of a grey t-shirt with the store logo and black leggings.
Relationships
Edit
Main article: Heather/Relationships
Appearances
Edit
"I'll get to you when I get to you!" - The missing information in this section of the article is to be added.
"Look at that painting!"

To view the Heather gallery, click here.
References
Edit
↑ 1.0 1.1 The Next Step - Family.ca. Family. Retrieved on May 17, 2017.
↑ 2.0 2.1 "Suspicious Emily." Wikia. Retrieved on May 14, 2017.
↑ "Simple Twist of Fate." Wikia. Retrieved on April 28, 2017.
↑ "Even Better Than the Real Thing." Wikia. Retrieved on April 28, 2017.
↑ "Don't Stop Me Now." Wikia. Retrieved on May 6, 2017.
↑ 6.0 6.1 "Dance Secrets." Wikia. Retrieved on May 14, 2017.
↑ 7.0 7.1 7.2 7.3 "No Good Deed." Wikia. Retrieved on July 6, 2017.
↑ "12 Hour Party People." Wikia. Retrieved on July 21, 2017.
Ad blocker interference detected!
Wikia is a free-to-use site that makes money from advertising. We have a modified experience for viewers using ad blockers

Wikia is not accessible if you've made further modifications. Remove the custom ad blocker rule(s) and the page will load as expected.