This article is about the episode. You may be looking for the character. You can find the disambiguation page here.
"Heathers" is the 7th episode in Season 5 of The Next Step and the 141st episode overall. It aired on July 14, 2017.
Synopsis
"Piper discovers a new dancer to bring to TNS West, while Zara tries to juggle her commitments at TNS East. Noah and Jacquie struggle to get on the same page romantically."[1]
Plot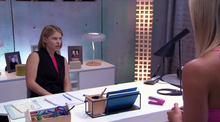 Under Daniel's watch, TNS East is rehearsing their routine in Studio 1. Meanwhile, West is building a routine with TNS West in Studio A. As this occurs, Michelle frantically enters Emily's office, asking her if she got Kate's e-mail. Michelle confesses that, per the e-mail, only one team can represent The Next Step Dance Studio at Regionals. Emily proposes that their dance captains speak to each other, although this cannot happen since Michelle has not yet picked one. Emily reminds Michelle that she has ten classically trained dancers while Michelle has eight, some of which are from the Internet, so that it is clear that TNS East will be going to Regionals. Michelle assures Emily of the opposite, causing Emily to propose that their teams have a competition with the winner going to Regionals. Michelle concurs, but confesses that she needs to find two dancers fast.
Before Neutral Grounds opens, Heather dances, like she does every morning. Unbeknowst to Heather, Piper and Amy enter the cafe while she is dancing and watch from the doorway. Both Piper and Amy are shocked at how good of a dancer she is. Heather eventually notices Piper and Amy, stops dancing, and retreats behind the counter. Heather dismisses the two's praise and takes their orders. She confesses that she can never let anybody catch her dancing again.
Noah enters the locker room as Jacquie, Lola, and Amy are conversing. Noah's attempt to ask Jacquie out fails, as she remains unsure of whether she can truly trust him. Noah decides he needs to find out why Jacquie blew him off.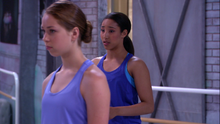 In Studio 1, Richelle tells Lola, Amy, Jacquie, Noah, and Josh that they will be the focus of a six-person section in their ten-person dance. Richelle confesses that their dance has to be perfect if they hope to beat Michelle's team. Richelle asks if anybody knows where Zara is and, just then, she arrives. Zara claims that her parents had a flat tire and promises she won't be late again. Josh is confused, knowing Zara takes the bus in the morning. The dancers begin rehearsing their routine. Noah asks Josh, who is behind him and beside Jacquie, to switch lines with him, although Jacquie refutes the idea. Noah keeps asking Josh to switch and, seeing as that would mean he is in the front row, Josh ultimately decides to comply. Noah tries to speak to Jacquie, although she doesn't wish to speak during rehearsal. Richelle notices their banter, calls them out, and asks the dancers to start the dance again in their normal positions. Jacquie is left angry and Noah realizes that he made things worse. In Studio A, Michelle tells the members of TNS West that they will have to compete against TNS East to be able to dance at Regionals. The dancers are left in various stages of disbelief. Michelle tells the dancers to continue to rehearse as she continues to search for more dancers. Piper realizes that she knows a dancer who can join the team.
Piper approaches Heather in Neutral Grounds about her dancing. Piper is confused by Heather's refusal to talk about it, but is sure that she can convince her to join the team. Meanwhile, with Lola in tow, Richelle asks Jacquie if she should be concerned about her apparent distraction. Before Jacquie can reply, Lola assures Richelle not to worry, as Jacquie and Noah are just hanging out. Richelle tells Jacquie that she knows what it's like to have a crush on Noah, but warns her that it ruins everything. Richelle advises Jacquie not to date Noah if she wants everything to work out, and leaves. Jacquie considers this advice, since Richelle has known Noah for such a long time.
Zara and Josh are making a purchase at Neutral Grounds. Josh brings up Zara's excuse about the flat tire, and Zara lies that it took forever to change and her parents began fighting. Josh immediately sees through her lie. Josh asks Zara what the real reason for her tardiness was and Zara reveals that she was at a math competition. While Josh thinks it's cool, Zara fears that Emily would take her off of the team if she found out. Heather meets Piper in Studio A upon Piper's invitation. Piper eventually persuades Heather to dance. During her solo, Heather confesses that she comes from a big family and that she had to give up dance because it had become too expensive. When Heather finishes her solo, Piper asks her why she can't be a member of their team and Heather tells her the truth. Piper wishes she could do something. Meanwhile, feeling bad for Jacquie, Lola helps her with the choreography. Noah approaches Jacquie and, after Lola leaves, Jacquie tells Noah that they should remain friends.
Zara and Josh are packing up in the locker room. Zara receives a text that reveals the date for her math quarter final against Central High, which is two weeks from that coming Sunday. Josh tells Zara that it's the day of the battle against TNS West. In her office, Michelle is on the phone with Tiffany, having already called several, in the hopes of somehow finding two new dancers. As Michelle ends the call, Piper enters the office and tells Michelle about Heather. Piper suggests that they hold a dance-a-thon to help ease the cost of dancing for those who cannot afford it. Michelle makes Piper the dance captain of the team and tells her to start organizing it.
Wanting to make things right, Noah tells Jacquie how he feels. Now on the same page, the two dance together. Jacquie realizes that she was pushing Noah away because she was afraid of getting hurt, but that she is no longer afraid.
Trivia
Continuity
Cultural references
The title of the episode alludes to a song called "Feathers" by Coheed and Cambria.
Cast
Main
Recurring
Featured music
Featured dances
Quotes
Main article: Heathers/Quotes
Aftershow
Main article: Heathers/Aftershow
Gallery
"Look at that painting!"

To view the Heathers gallery, click here.
References
↑ TV Listings Grid, TV Guide and TV Schedule, Where to Watch TV Shows - Screener. Zap2It. Retrieved on July 18, 2017.