"
I have the wow factor. I'm what people pay money to see.
"

— in "Ready to Start"
Click here to see more quotes.

Hunter is from Madison, Wisconsin. He is a former member of A-Troupe.
Biography
Before the show
Hunter was born in Madison, Wisconsin, where he attended an unnamed dance studio.[1] He was close with and developed feelings for Michelle. He performed a duet with Michelle before she left the studio.
Hunter transfers to The Next Step Dance Studio with the hopes of rekindling his relationship with Michelle. When he discovers that Michelle is dating Eldon, he hatches a plan with Emily to get their significant others jealous in order to get them back.[1] He becomes close with his partner-in-crime Emily during the course of the plan.
Hunter challenges Eldon to a dance battle, with the loser having to back off of Michelle.[2] He wins, expecting Eldon to do what was promised, but is frustrated when it takes a while. When a video of Hunter and Eldon's dance battle surfaces, Hunter is voted to get the solo for Absolute Dance Nationals, therefore dethroning Eldon. This creates a rift between Hunter and the other boys.[3]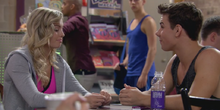 After Eldon breaks up with Michelle,[4] Hunter asks her out on a date to which she accepts.[5] He is unimpressed when all she can talk about is Eldon during the date.[5] He comes to realize that he actually likes Emily and should have asked her out instead.[5] Later that day, Hunter says as much to Emily and kisses her.[5]
When Hunter discovers that Michelle saw him kiss Emily, he rushes to tell Michelle that he wants to be with Emily, not her, but will still be there as a friend.[6] Due to this, he feels as though he is to blame when Michelle leaves the studio.[7] Nonetheless, Hunter initiates a relationship with Emily which he believes to be going smoothly, contributing to his surprise and hurt when she breaks up with him seemingly out of nowhere.[8]
Hunter works to become friends with Eldon and the other boys. After baking a chocolate cake for Eldon as well as giving him back his solo,[9] helping James get Beth off of his back,[8] and showing West the head slide,[9] they become "bros." Hunter becomes a part of the small group with them as well,[10] and helps them win at Nationals.[11]
Hunter picks Eldon's name out of a hat and is forced to face him in a dance battle for a spot on the Internationals team.[12] Although he is confident, Eldon beats him.[12] No longer being in A-Troupe, he says goodbye to the studio and his friends[13] and returns to Madison, Wisconsin.[14]
Personality
Hunter is a very determined person, as he transferred studios just to be with Michelle, although this also makes him clingy and unwilling to take "no" for an answer. He is initially extremely selfish, as he never considers the feelings of Eldon nor Michelle when carrying out his agenda, but rather only cares about his personal intention of dating Michelle. He is very confident as well.
Hunter can be remorseful for his actions, as he wishes to make up with Eldon and the rest of the guys, and is willing to apologize to Eldon and give him back his solo.[9] He is also quite caring and humorous when need be.
Hunter is confident. Hunter thinks that he is better at dancing that some of the A-Troupe members. He says he is confident when he is battling Eldon.
Physical appearance
Characteristics
Hunter is a relatively short boy. He has fair skin, dark hair and dark eyes, and a slightly upturned nose. His hairstyle is probably static, as he has stated that it is the perfect shape to perform head slides. He has been described as cute by both Emily[1] and Becca[3] (although James begs to differ[3]).
Outfits
Hunter usually wears comfortable clothing. In Season 2, he sports varying shades of blue, grey and black; whereas, in Season 3, he usually wears purple. He usually wears sweatpants, but occasionally wears shorts. He seems to own a vast array of hats, of which he wears throughout the series.
Abilities
Dancing
Breakdance
Hunter's dominant style is breakdance. His signature move, The Head Slide, is a breakdance move.
Hip-hop
Hunter is proficient in hip-hop.
Acro
Hunter is proficient in acro.
Relationships
Eldon
Eldon becomes Hunter's rival when Hunter realizes that he is dating Michelle, who he wishes to be with. He challenges Eldon to a dance battle for Michelle, and wins.[2] When footage of the dance battle surfaces Hunter is granted the male solo, which previously belonged to Eldon.[3] This creates an even larger fissure between him and Eldon. After talking to Emily, Hunter realizes that he needs to get on good terms with him.[9] Hunter bakes Eldon a chocolate cake, which Eldon shoves into his face.[9] Hunter hopes that this means they can finally be "bros",[9] although Eldon tells him that they can only be bros if Hunter returns the solo to him. Hunter obliges, and the two finally become friends.[8] When he loses to Eldon during their final dance battle against each other, he is sad, but leaves with his head held high.[12]
Emily
Knowing that Emily wants to get back together with Eldon, Hunter asks for Emily's assistance in a plan that would get them their significant others back.[1] Although the plan begins to unfold accordingly, Hunter eventually realizes that he likes Emily, not Michelle. He tells her as much, and kisses her, commencing their relationship.[5] He believes that their relationship is going well, which is why he is shocked when Emily breaks up with him without a concrete explanation.[8]
Michelle
Hunter likes Michelle when he attends her studio in Madison, Wisconsin. Hoping to rekindle their romantic feelings for one another after she moves, Hunter auditions for A-Troupe. He is heartbroken when he discovers that Michelle is dating Eldon, and creates a plan with Emily to get her back.[1] With the plan working accordingly, Hunter takes Michelle out on a date, and is dismayed when Michelle can only talk about Eldon. It is then that Hunter realizes that he likes Emily, rather than Michelle.[5] He tells Michelle as much, but assures that he will be there for her as a friend.[6]
Appearances
Trivia
Quotes
Gallery
"Look at that painting!"

To view the Hunter gallery, click here.
References
↑ 2.0 2.1 "The Girl Is Mine." Wikia. Retrieved on August 27, 2015.
↑ 3.0 3.1 3.2 3.3 "The Truth Comes Out." Wikia. Retrieved on October 14, 2015.
↑ "Never Enough." Wikia. Retrieved on August 27, 2015.
↑ 6.0 6.1 "Hazy Shade of Winter." Wikia. Retrieved on August 27, 2015.
↑ 8.0 8.1 8.2 8.3 "Heartbreaker." Wikia. Retrieved on August 27, 2015.
↑ "Run This Town." Wikia. Retrieved on August 27, 2015.
↑ "I Don't Know." Wikia. Retrieved on August 27, 2015.
↑ 12.0 12.1 12.2 "Let the Games Begin." Wikia. Retrieved on August 27, 2015.
↑ "The Fallout." Wikia. Retrieved on March 6, 2016.
↑ "The New Girl in Town." Wikia. Retrieved on March 6, 2016.
↑ "Heartbreaker." Wikia. Retrieved on December 5, 2015.
↑ "Danger Zone." Wikia. Retrieved on January 9, 2016.
Ad blocker interference detected!
Wikia is a free-to-use site that makes money from advertising. We have a modified experience for viewers using ad blockers

Wikia is not accessible if you've made further modifications. Remove the custom ad blocker rule(s) and the page will load as expected.