"
Although, I do have matching socks.
"
Click here to see more quotes.

"I'm So Excited" is the 27th episode in Season 1 of The Next Step and the 27th episode overall. It premiered on December 13, 2013.
Synopsis
Edit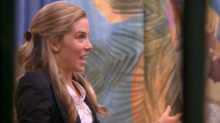 On the day that they are to be travelling to the site of Regionals, A-Troupe excitedly gathers in Studio B with their luggage. As the dancers convene, Gabi enters and tell Kate that "they" are ready for them in Studio A. Confused but anticipatory for the surprise, A-Troupe heads to Studio A.
Daniel waits in Studio A to send off his former team. Along with Daniel are the members of J-Troupe. J-Troupe commences a song meant to wish A-Troupe luck at Regionals, which is loved by the A-Troupers. When the song concludes, Kate directs the dancers to the bus but, before the dancers board the bus, Emily inquires about the state of their costumes. As Kate is about to finally reveal that the costumes have not yet arrived, a courier brings them. Chris brings the costumes forward and he and Kate attempt to lie that the costumes were stored somewhere within the studio. The dancers examine their costumes fondly and celebrate with the J-Troupers.
A-Troupe arrives at the Regionals venue. The dancers step onto the Regionals stage, look around in awe, and reminisce about everything they had to go through in order to get where they are. Amidst the whimsy, Emily witnesses Michelle and Eldon playfully conversing, making her suspicious.
As A-Troupe waits in line in the lobby, Amanda walks past Emily and eyes her slyly. She is followed by the other members of Elite Dance Academy, who are wearing matching tracksuits, and staff, much to A-Troupe's chagrin. Amanda returns and taunts Emily about leaving Elite. Michelle comes to Emily's defense and West attempts to make a quip, but this only works to lead Amanda to insult the team. Before Amanda can say anything else, Lisa Thompson approaches her for an interview.
The SNR Network coverage of Regionals commences with host, Chuck Anderson, and co-host Stacey Tookey. The two explain that, unlike other dance competitions, the teams must perform the same routine four times before getting to the finals. The coverage is then directed to Lisa Thompson who explains that there are twenty-four teams in brackets of eight; two teams go head to head in each round, and the team with the higher score moves forward. There is also a wildcard option, in which a team from the previously eliminated pool is picked to move forward in the competition. Kate explains to A-Troupe that Seeds and Elite are in a different bracket from them and that they must get to the semi-finals if they wish to face them. Lisa approaches Marcel for an interview, during which he admits that they only have nine members since one of them was stopped at the border, which means that they will be disqualified if the dancer does not show up. West overhears this and wishes to help. After the interview, West volunteers to dance in place of the missing member, but Marcel refuses.
West returns to his team while they are in the middle of rehearsal. He explains that Seeds is missing a dance member and wants to dance in place of him. Eventually, the team votes to allow West to dance with Seeds.
The members of Seeds are backstage, preparing to perform their first routine. West approaches Marcel again and expresses his wish to dance for the team; realizing that there is no other choice, Marcel allows West to dance with the team. West tells Marcel that after the dance, they need to be friends again, which Marcel agrees to.
During SNR Network's coverage, Lisa makes the official announcement that West is dancing for Seeds. A-Troupe enters the viewing area just as Seeds enters the stage. As Seeds performs, the dancers from A-Troupe confess that Seeds is putting on a great performance. Near the end of the performance, Kate ushers A-Troupe out of the theatre to put on their costumes. Seeds is awarded 88 out of 100 points and moves forward to the second round of the competition.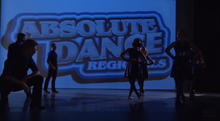 The members of A-Troupe (excluding West), Kate, and Chris convene backstage, moments before their performance. Emily wonders where West is and, as if on cue, West approaches them with a limp. West tells the dancers that he hurt is ankle while he was on-stage with Seeds and is unsure of whether or not he will be able to dance. All of the dancers are frantic at this revelation except for James, who inquires as to why West is wearing his costume if he is injured. It is then that the team realizes that West was joking. Newly revived, the team runs onto the Regionals stage and poses in preparation for their performance.
Continuity
Edit
The wildcard plot proves to be important in "Fancy Footwork."
Cultural References
Edit
The title is a reference to a song of the same name by The Pointer Sisters.
Recurring
Edit
Featured music
Edit
Featured dances
Edit
Main article: I'm So Excited/Quotes
Aftershow
Edit
Main article: I'm So Excited/Aftershow
"Look at that painting!"

To view the I'm So Excited gallery, click here.
Ad blocker interference detected!
Wikia is a free-to-use site that makes money from advertising. We have a modified experience for viewers using ad blockers

Wikia is not accessible if you've made further modifications. Remove the custom ad blocker rule(s) and the page will load as expected.