"Spoiler alert—he dies at the end."

This page contains prominent information about something that has yet to come, or that has been recently released. By choosing to read on, you are consenting to viewing possible spoilers.
"I think Kate and Chris's dance is great for two old people."

This article needs to be updated. This page is currently out of date and needs to be infused with recent information.
LaTroy
is a
hip-hop
dancer in
A-Troupe
. He is currently
Sloane
's boyfriend and the ex-boyfriend of
Amy
.
Biography
Before the Show
LaTroy danced with Sloane and became best friends with her.[1]
Ever since he was five, LaTroy's father was absent; on several occasions he would promise to see LaTroy but would never show up.[2]
Amidst auditions for A-Troupe, LaTroy and has trouble with Daniel's contemporary choreography. Knowing that he cannot master it, he incorporates hip-hop moves into the routine.[3] His uniqueness must have been commended, because he makes it onto A-Troupe.[4]
LaTroy is thrilled when he receives a text from his estranged father in which he claims that he wants to meet; his utter excitement causes him to ditch Sloane. LaTroy is disappointed when his father does not show up and choreographs a solo for Sloane as an apology.[2]
LaTroy realizes that he needs to become a more versatile dancer and asks Amy to help him learn a contemporary combo. LaTroy not only learns some contemporary, but bonds with Amy in the process.[5]
LaTroy comes to like Amy romantically and, after her assertion that she'd like to, he asks her out on a date. LaTroy is shocked when the news of his upcoming date with Amy upsets Sloane and even more shocked when he finds out that Sloane likes him, as he doesn't reciprocate the feeling.[6] LaTroy decides to date Amy and eventually commences a relationship with her, resulting in the deterioration of his friendship with Sloane.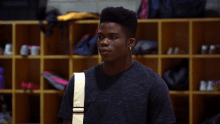 Hoping to reconnect with his father, LaTroy takes up his offer to renovate a farmhouse with him for a while. He tells Sloane and Amy about this decision; while he is met with hostility from Sloane, Amy is more understanding. Although the decision to leave is a hard one, LaTroy knows that he has to choose his biological family over his dance family.[7]
LaTroy begins to develop an acute fear of missing out, which Amy attempts to help him with. Over video chat, he speaks to Amy, Henry, and Michelle... and Sloane. His conversation with Sloane is admittedly awkward, but it aid in mending their burned bridge.[8] LaTroy is elated when Sloane tells him that she wants to be best friends with him again.[9]
Personality
LaTroy prizes uniqueness and individuality. LaTroy is extremely confident, a trait which sometimes verges on conceit and blindness to his weaknesses. LaTroy often needs others to make him aware of his flaws. In relation to this, LaTroy also tends to be quite oblivious. For instance, LaTroy cannot see that Amy and Sloane like him romantically until he is explicitly told so.[6]
LaTroy often attempts to be the mediator, like he does with Sloane and Amy, but usually fails. He is also extremely hopeful, proven by the number of second chances that he provides his deadbeat father with, which may contribute to his peacemaking nature.
Physical appearance
Characteristics
LaTroy has dark skin, dark hair, and dark brown eyes.
Attire
LaTroy's attire is very casual; it consists almost entirely of t-shirts, jackets and sweatpants. His wardrobe mostly consists of red, blue, black, and white clothing.
Relationships
Sloane
Sloane is LaTroy's best friend. LaTroy does not see Sloane as anything more than his best friend and does not share the romantic feelings that Sloane has for him.
Amy
LaTroy asks Amy to help him with his contemporary,[5] after which they begin to grow closer. Eventually, LaTroy asks her out.[6] LaTroy is now Amy's boyfriend.[6]
Appearances
Dances
Solos
Duets
Trios
Group dances
Trivia
Quotes
Gallery
"Look at that painting!"

To view the LaTroy gallery, click here.
References
Ad blocker interference detected!
Wikia is a free-to-use site that makes money from advertising. We have a modified experience for viewers using ad blockers

Wikia is not accessible if you've made further modifications. Remove the custom ad blocker rule(s) and the page will load as expected.