LaTroy is a hip-hop dancer on TNS West.
LaTroy auditions for A-Troupe with Sloane. Despite his wariness at having to audition with contemporary choreography, LaTroy makes it onto the troupe.[2][3]
LaTroy is disappointed to hear that Sloane will not be joining him the next dance season, but still auditions nonetheless. LaTroy is rejected from TNS East, and thus joins TNS West.[4][5]
Biography
Before the show
LaTroy danced with Sloane and became best friends with her through his mother.[6][7] On his first encounter of Sloane, LaTroy got imprints on his forehead of a toy truck's wheel that Sloane threw at him. Some time later, LaTroy made Sloane cycle off of a ramp which ended badly.[8]
Ever since he was five, LaTroy's father was absent; on several occasions he would promise to see LaTroy but would never show up.[9]
Amidst auditions for A-Troupe, LaTroy has trouble with Daniel's contemporary choreography. Knowing that he cannot master it, he incorporates hip-hop moves into the routine.[2] His uniqueness must have been commended, because he makes it onto A-Troupe.[3]
LaTroy is thrilled when he receives a text from his estranged father in which he claims that he wants to meet; his utter excitement causes him to ditch Sloane. LaTroy is disappointed when his father does not show up and choreographs a solo for Sloane as an apology.[9]
LaTroy realizes that he needs to become a more versatile dancer and asks Amy to help him learn a contemporary combo. LaTroy not only learns some contemporary, but bonds with Amy in the process.[10]
LaTroy comes to like Amy romantically and, after her assertion that she'd like to, he asks her out on a date. LaTroy is shocked when the news of his upcoming date with Amy upsets Sloane and even more shocked when he finds out that Sloane likes him, as he doesn't reciprocate the feeling.[11] LaTroy decides to date Amy and eventually commences a relationship with her, resulting in the deterioration of his friendship with Sloane.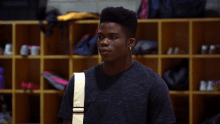 Hoping to reconnect with his father, LaTroy takes up his offer to renovate a farmhouse with him for a while. He tells Sloane and Amy about this decision; while he is met with hostility from Sloane, Amy is more understanding. Although the decision to leave is a hard one, LaTroy knows that he has to choose his biological family over his dance family.[12] LaTroy's time at the farmhouse does little to mend his relationship with his father, however.[13]
LaTroy begins to develop an acute fear of missing out, which Amy attempts to help him with. Over video chat, he speaks to Amy, Henry, and Michelle... and Sloane. His conversation with Sloane is admittedly awkward, but it aid in mending their burned bridge.[14] LaTroy is elated when Sloane tells him that she wants to be best friends with him again.[15]
LaTroy is happy to return to The Next Step and reconnect with Amy and Sloane, although he begins questioning his relationships with the two.[13] When Amy tells him she loves him at Regionals, LaTroy resounds the sentiment but is unsure of if he means it. Although, he later tells Sloane he loves her and sure of it.[16] Knowing that he actually loves Sloane, LaTroy breaks up with Amy to be with her.[17]
LaTroy is saddened that Sloane will not be auditioning, but is glad to have a her as such a supportive girlfriend.[4]
LaTroy is irate when he isn't even permitted to audition for A-Troupe and is automatically sent to B-Troupe.[4] He is one of the first to join TNS West.[5]
Personality
LaTroy prizes uniqueness and individuality. LaTroy is extremely confident, a trait which sometimes verges on conceit and blindness to his weaknesses. LaTroy often needs others to make him aware of his flaws. In relation to this, LaTroy also tends to be quite oblivious. For instance, LaTroy cannot see that Amy and Sloane like him romantically until he is explicitly told so.[11]
LaTroy often attempts to be the mediator, like he does with Sloane and Amy, but usually fails. He is also extremely hopeful, proven by the number of second chances that he provides his deadbeat father with, which may contribute to his peacemaking nature.
Physical appearance
Characteristics
LaTroy has dark skin, dark hair, and dark brown eyes.
Attire
LaTroy's attire is very casual; it consists almost entirely of t-shirts, jackets and sweatpants. His wardrobe mostly consists of red, blue, black, and white clothing.
Relationships
Main article: LaTroy/Relationships
Appearances
Dances
"I'll get to you when I get to you!" - The missing information in this section of the article is to be added.
Solos
Duets
Trios
Group dances
Trivia
Quotes
Main article: LaTroy/Quotes
Gallery
"Look at that painting!"

To view the LaTroy gallery, click here.
Notes
↑ As Season 4 can be split into quarters and is set across four months of the timeline in the universe of the show, episodes 11 to 20 can be presumed to take place in February. LaTroy's birthday occurs in "I Can't Go for That".
References
Ad blocker interference detected!
Wikia is a free-to-use site that makes money from advertising. We have a modified experience for viewers using ad blockers

Wikia is not accessible if you've made further modifications. Remove the custom ad blocker rule(s) and the page will load as expected.