"
You know what? They know what they have to do.
"
Click here to see more quotes.

"Let the Games Begin" is the 4th episode in Season 3 of The Next Step and the 68th episode overall. It aired on March 18th, 2015.
Dancers from The Next Step and Elite vie for the first six spots on A-Troupe.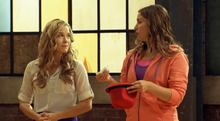 Elite and The Next Step are in Studio A on the first day of dance battles. Kate, Phoebe, and Lucien enter the studio, Phoebe holding a hat (supplied by Lucien, naturally) with the dancers's names in it. Phoebe pulls out Hunter's name from the hat, and The Next Step is excited because they know that he is a great dancer. Dread soon fills the dancers though, when Hunter pulls out Eldon's name from the hat. Eldon is disappointed, as the eminence of such a scenario was the primary reason as to why he quit before. Daniel dubs this as the perfect moment. Kate tells Eldon and Hunter that they have an hour to rehearse before competing.
Eldon and Hunter compete and despite Hunter dancing well, Eldon out-performs him and wins, meaning that Hunter is eliminated. Since Eldon is the winner, he picks the next name. The person he picks is Abi from Elite; Noah comments that he would like to get to know her and is disappointed when Abi picks his name.
Noah sees Abi rehearsing and babbles nervously, hinting that he may have feelings for her. After their performances, Noah wins, especially because Abi stumbles during her performance. Despite himself, Noah is disappointed because his chances with Abi are now diminished. The next name to be picked is Skylar's, exciting her sister Cierra who has helped her with her dancing daily. Unfortunately, the name that Skylar picks is none other than Cierra's. Whatever the outcome, The Next Step will officially have their first Elite member after the battle.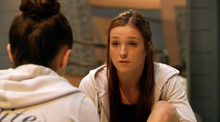 The sisters lament about their unfortunate circumstance. Since their single mum will be unable to drive the sisters to two different studios, the girls ponder upon what they will do so that they can both dance. They eventually decide to forfeit and go back to Elite, but Lucien says if they don't compete, they won't have spots at Elite. The two are forced to compete, although in private, and Cierra wins.
When the battles resume, Cierra pulls out West's name, and he pulls out Shannon's. West performs a great routine with the creative use of a basketball. Shannon struggles several times during her routine and West wins.
West pulls out Richelle's name and she pulls out Max's. Although they are pretty evenly matched, Max wins.
Max picks James. Lucien creates a diversion (pretending to use his cellphone to order pizza), a part of Daniel, Tess, and Lucien's plan. They switch the hat to an identical one and James, who was formerly excited, is filled with dread when he pulls out Riley's name. She then comments that she doesn't want to do the competition any more.
Cultural references
Edit
The title refers to a song by Anarbor.
Recurring
Edit
Featured music
Edit
Featured dances
Edit
Main article: Let the Games Begin/Quotes
Aftershow
Edit
Main article: Let the Games Begin/Aftershow
"Look at that painting!"

To view the Let the Games Begin gallery, click here.
Ad blocker interference detected!
Wikia is a free-to-use site that makes money from advertising. We have a modified experience for viewers using ad blockers

Wikia is not accessible if you've made further modifications. Remove the custom ad blocker rule(s) and the page will load as expected.