"I think Kate and Chris's dance is great for two old people."

This article needs to be updated. This page is currently out of date and needs to be infused with recent information.
Lola is a jazz dancer on A-Troupe.
Despite having been dance captain at Encore Dance Studios, Lola was friendless. She arrives at The Next Step Dance Studio hoping to make friends[2] and successfully makes it onto A-Troupe.[3]
Biography
Before the show
Lola attended Encore Dance Studios, where she was dance captain. Despite the studio's competitiveness, Lola prioritized dance over relationships, resulting in her having no friends.[4]
Wanting a fresh start, Lola visits The Next Step Dance Studio and decides to audition for A-Troupe.[2]
Lola makes it onto A-Troupe, exciting her, as she hopes it will allow her to make new friends.[3]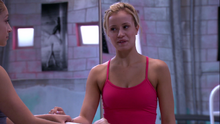 Lola is extremely happy for Richelle when she becomes dance captain and is confused as to why nobody is celebrating her position. When Lola learns that Richelle does not have many friends, Lola begins a quest to befriend her, which she eventually succeeds in.[4]
Lola is ecstatic to be deemed the soloist of Eldon's routine, but grows embarrassed upon discovering that Eldon mistook Jacquie for her, making Jacquie the actual soloist. Lola is comforted by Jacquie and motivated to keep trying.[5]
Personality
Lola is an ambitious person as seen through her determination to make it onto A-Troupe[3] and to make Richelle her friend.[4] While at Encore Dance Studios, Lola prioritizes dance over all else, resulting her being friendless.[4]
Lola is also thoughtful and loyal, immediately wanting to celebrate Richelle's dance captaincy[4] and going out of her way to have Richelle let loose at the dance-a-thon.[6]
Even when she gets the short end of the stick, as seen when she finds out that she doesn't have her solo after all, Lola does not possess feelings of resentment; she congratulates Jacquie on getting the solo over her and tells her that she is a great dancer who is deserving of it.[5]
Physical appearance
Characteristics
Lola has light skin and blue eyes. She has shoulder-length, straight, blonde hair. While dancing, her hair is in a braided bun.
Attire
While dancing, Lola wears a pink camisole or a purple-and-black tank top paired with a black skort, or a light blue sleeveless top with a black skort or black leggings.
Otherwise, Lola wears a sheer pink blouse, a blue cardigan, and jeans.
Abilities
Relationships
Main article: Lola/Relationships
Appearances
Dances
Gallery
"Look at that painting!"

To view the Lola gallery, click here.
References
Ad blocker interference detected!
Wikia is a free-to-use site that makes money from advertising. We have a modified experience for viewers using ad blockers

Wikia is not accessible if you've made further modifications. Remove the custom ad blocker rule(s) and the page will load as expected.