This article is about the character. You may be looking for the actor. You can find the disambiguation page here.

"
He's always been a proud person.
"
Click here to see more quotes.

Noah is the dance captain of A-Troupe.[4]
Noah is originally a long-term member of J-Troupe, but is eventually granted the opportunity to battle for a spot on A-Troupe, which he successfully obtains.[5]
Noah becomes disillusioned by the troupe after it becomes TNS East and joins TNS West.[6]
Biography
Before the show
Noah joined J-Troupe when he was young.[7]
Noah went to Spain at an unknown time.[8]
Noah posted videos of himself, most likely playing the guitar and singing, on the Internet.[9]
Noah, along with his fellow J-Troupers, is ordered by Tiffany to give Daniel a hard time when he choreographs for them. He complies with Tiffany's demands, but eventually listens to Daniel when she says to. He and his fellow J-Troupers perform the choreography for A-Troupe.[10]
Noah sings and plays the guitar during a performance for A-Troupe in order to wish them luck for Absolute Dance Regionals.[11]
Noah is initially scared of Amanda upon her arrival to The Next Step because of her uncanny intelligence.[12]
Noah auditions for A-Troupe but doesn't make it in.[13] He returns to J-Troupe, where he is eventually forced to re-audition for his spot due to an influx of new dancers, and successfully remains on the troupe.[14]
Noah participates in the 24 Hour Challenge by creating and performing a song with James and Camille.[9]
When he and James are booked to perform at Michelle and Chloe's fundraiser at Culture Shock, Noah fears that his voice will crack when he sings and refuses to perform. The predicament appears to be remedied when Amanda steps in as the singer, until she bails. Noah decides that he is more scared of James' anger than of performing, and successfully sings on-stage.[15]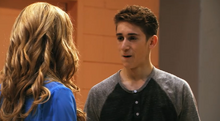 Noah has become one of J-Troupe's best dancers. Noah is offered a spot in the competition for the Internationals team by Kate, and graciously accepts.[16] Noah becomes smitten with Abi, an Elite Dance Academy member competing in the competition. He is disappointed he is chosen to face her in the dance battle and even more so when he beats her. Although, he is happy to be on A-Troupe.[5]
When Abi enters B-Troupe, Noah nervously attempts to impress her. He is advised by West and James to speak to her and follows the advice,[17] but still appears awkward and nervous.
Noah catches a glass of milk falling off a table without spilling any of it's contents in Hidalgo's, impressing West, Cierra, and Eldon. For the rest of the day, Noah is subject to their tests to gauge is abilities, all of which he easily passes.[18]
Being the youngest member of the team and not being put onto any featured dances starts to make Noah feel as though he is inferior. With Ella's help, he able to get out of his slump[19] and gain the courage to challenge Eldon for the position of male soloist. While he loses the challenge, he becomes confident that he will one day reach Eldon's level.[2]
Despite wanting to, Noah is too nervous to properly ask Abi to dance with him at A-Troupe's party. With advice from James, Noah is able to finally dance with Abi. When Abi confesses that he has no need to be nervous, Noah successfully kisses her,[20] shortly after which he blacks out.[21]
Noah's spacial awareness results in his enlistment into the blindfolded routine at Internationals. After helping lead the group into winning the round[22] and the team into winning the competition,[23] Noah feels assured about his role on the team.
Noah's feelings for Abi have faded away.[24]
Noah is initially nervous for A-Troupe auditions,[25] but is encouraged by Alfie and Henry, and makes it onto the team.[26] Noah becomes a part of the trio for the first qualifier alongside Piper and Richelle.[27]
Noah collaborates on a song with Amanda.[28] Having bonded with her, Noah entrusts her with helping him pick an outfit for his family gathering. The outfit is liked by his relatives and he brings back pie to share with Amanda as a thank you.[29]
Noah's back starts seizing up,[30] but he tells nobody about it for fear of being kicked off of the trio and A-Troupe, despite only being able to mark the routine during rehearsals. At the qualifier, Noah fumbles due to his back problem, causing the team not to qualify to Regionals.[31] Nonetheless, Noah continues to lie about his injury, but feels bad when he does so to Amanda. After consulting Henry, Noah realizes that the reason he feels bad about lying to her is because he likes her. Noah tells Amanda about his feelings for her, of which are reciprocated, and of his injury, but makes her promise not to tell anyone.[32]
Noah continues to hide his back injury even though Amanda continuously prods him to tell Riley. Noah realizes that his injury is growing worse and finally tells Riley about his state.[33] Shortly after his tests at the hospital, Noah receives an early phone call,[12] during which he is told that he has a cyst on his spinal cord and has to have surgery to get it drained; even with the surgery, he might never dance again. Noah attempts to kiss Amanda before his surgery, but chickens out and promises to kiss her afterward.[34]
Noah does not want Amanda to see him at his weakest while he is at the hospital and snaps at her while she is trying to help him. He is immediately apologetic.[35] On the day Noah is to go home from the hospital, he realizes that he has to kiss Amanda. Noah fears that, if the first kiss is not enjoyable, it will ruin their relationship. When Amanda tells him that she kissed him while he was under the anesthetic, he finally kisses her, only to realize that she lied. Nonetheless, Noah is content that his first kiss with Amanda went smoothly.[21]
When Noah returns to the studio, he is wary about doing the qualifier duet with Alfie, as his mind is still not ready for him to be dancing again. Despite Amanda's advice to conquer his fear, Noah decides that he cannot do the duet.[36]
Noah is supportive of Amanda when he learns of her opportunity to dance on tour but is happy when she decides to stay and dance with the team.[37] He feels sorry for Amanda when she is taken out of the final routine and worries when she fails to answer his calls.[38]
Since breaking up with Amanda, Noah finally finds himself interested in a girl; Noah gains a crush on Jacquie, who he meets at a ballet workshop.[39]
Noah excitedly tells Henry about Jacquie, but is forbidden by him from dating her, seeing as she is the ex-girlfriend who broke his heart. Although Noah is happy to make it onto A-Troupe with her, he realizes that nothing can become of their relationship.[40]
Noah struggles to keep his word to Henry, but is adamant about doing so because he values their friendship. Nonetheless, Noah notes undeniable chemistry with Jacquie, which he is not honest to Henry about. This lack of honesty with Henry is what causes Noah to lose his friendship.[41]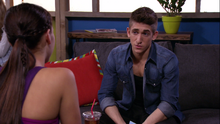 When an upcoming duet competition is brought up, Noah hopes to be paired with Jacquie, but is instead paired with Richelle. Noah believes Richelle to be emotionally stiff and is sure that there would be much more chemistry if Jacquie were his partner. Noah tries to convince Emily of this to avail, and even Jacquie deems his reasoning nonsensical. Wanting to spend time with her nonetheless, Noah asks Jacquie out on a date after rehearsal, which she accepts. Noah is met with Richelle's wrath after Emily tells her about Noah's complaint, he feels guilty for hurting Richelle but nonetheless their friendship ends. Noah is forced into a longer rehearsal with no access to his cellphone, unintentionally ditching Jacquie.[42]
Noah comes to believe that Henry is dating Heather, and subsequently pursues Jacquie. When met with Jacquie's wariness, Noah comes clean to Jacquie about how he feels about her, thus beginning his relationship with her.[43] Noah is confused by Henry's continuous hostility until he realizes that Heather is not Henry's girlfriend. Having had enough, Noah tells Henry that he will be around when he decides to grow up.[6]
Noah becomes acquainted with Elliot's appalling attitude and witnesses him forcing Piper to change the choreography for their dance-off. He comes to Piper's defense when she is interrogated about the changed choreography and witnesses Michelle take Elliot off the team due to his attitude, leaving Noah wondering if Emily would do the same.[6] Noah makes up with Henry after he apologizes, but still feels amiss. Upon hearing Emily and Michelle arguing over changing the date of the dance battle, Noah realizes what is wrong; he notifies Emily that he will be quitting TNS East and joining TNS West where he believes he belongs.[6] Noah is therefore the most devastated at TNS West's loss to TNS East in the dance battle,[44] seeing as simply remaining on his former team would have meant victory.[45]
Noah is the first person who agrees to Piper and Amy's idea of a merge between the teams after the entire studio is disallowed from competing at Regionals, despite seeing the possible consequences if the attempt fails. Noah is worried about Jacquie's wariness to join the merge, even more so upon the discovery that she has been offered a chance to dance at Gemini.[46] He is ecstatic when Jacquie decides to stay[46] and even more when the merge works, allowing the newly unified team to compete at Regionals.[47]
Noah is unimpressed by Richelle and Piper's tactics to retain their dance captaincy and vocalizes this, insisting to his fellow dancers that they must work as a team. This insistence inadvertently results in him ultimately becoming the new dance captain.[4]
Unable to create sufficient contemporary choreography for the qualifier video, Noah tasks Jacquie with the job. He is upset to find that she has created hip-hop choreography instead and confronts her about it, leading to what Noah deems the worst fight he has ever had with Jacquie.[48] While this impasse persists for some time, Noah is able to eventually reconcile with Jacquie after she watches the video and sees that he was right about the choreography.[49]
Noah is ecstatic when his team qualifies for Regionals.[49]
Personality
Noah is initially quite awkward, blabbering regularly and easily getting nervous. He is initially prone to doubting himself and feeling inferior as well, but helping A-Troupe win Internationals makes Noah a more confident person.
Noah is an easily smitten individual, as seen through his feelings for Abi, Amanda, and Jacquie. Noah's infatuation is sometimes at the expense of his platonic friendships, as seen when he lets his crush on Jacquie get in the way of his friendship with Henry.
Physical appearance
Characteristics
Noah has light skin, green eyes, and brown hair. While in J-Troupe, Noah is small and gangly. As Noah matures, he grows taller and stronger, and becomes quite muscular, which Amanda notably notices.[29] Noah has also been described as cute by both Stephanie[50] and Amanda.[34]
Attire
When a younger dancer, Noah usually wears undershirts and shorts. As he matures, Noah begins wearing sweatpants with a baseball jersey, a t-shirt and, later, an undershirt.
Outside of the studio, Noah usually wears a shirt with jeans.
Abilities
Dancing
Michelle describes Noah as the best dancer at the studio while on A-Troupe with him, after Eldon leaves the studio.[27] Emily also claims that Noah is the best dancer on TNS East.[6]
Other
Artistic
Song writing: Noah has written at least one song independently, "All We Need" which Amanda thinks is really special and good. James, West and Eldon choreograph a trio to it, with West thinking that they can make him look cool through the song and Eldon thinking that he needs a little bit of their help to impress Amanda.[28] Nonetheless, they like the song, as shown when they reprise their trio a year later.[12] Noah has also collaborated in the composition of three other songs, namely "Wish You Well", "Lifeline" and "Twilight".[54][9][55]
String instruments: Noah can play both the guitar and the ukelele.
Woodwinds: Noah can play woodwind instruments.
Physical
Spacial awareness: Noah has heightened spacial awareness, allowing him to be able to sense his surroundings even while blindfolded. This allows him to also be able to catch and dodge items with ease[18] and makes him the most important part of the Internationals blindfolded routine.[22]
Speed: Noah has declared that he is a fast runner.[56]
Relationships
Main article: Noah/Relationships
Appearances
Dances
Solos
Duets
Trios
Group dances
Solos
Duets
Trios
Group dances
Trivia
It is possible that Noah is of Jewish descent or a member of the Jewish faith, considering that he regularly attends the The Jewish Community Centre.[36]
Noah blows raspberries when he is concentrating.[57]
Quotes
Main article: Noah/Quotes
Gallery
"Look at that painting!"

To view the Noah gallery, click here.
References