"
Looks like it's me and you again, Eldon.
"
Click here to see more quotes.

"Old Friends" is the 29th episode in Season 2 of The Next Step and the 59th episode overall. It aired on December 5, 2014.
Synopsis
Edit
Eldon faces an old friend in his solo round at Nationals.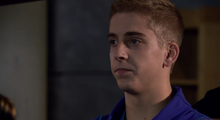 It is the second day of Nationals and the second day of male soloists, with thirty-two dancers left to perform. While The Next Step is watching, James asks Eldon if he's nervous and he claims that he isn't, somewhat concerning James. Although, upon the elaboration that he'd be more nervous asking out a girl, James laughs off the concern. Later, Giselle sees Daniel and is immediately excited, as she hasn't seen him in a long time. To her surprise, he brushes her off and Giselle realizes that he's acting weird. Daniel confesses that he doesn't want to be friends with anybody from The Next Step, as Eldon got the solo instead of him, and also because he is no longer at the studio.
Male solos are still taking place and Riley comments that the dancers are killer and that she hopes Eldon can take them down. Next, Life of Dance's male dancer, Rocco, performs his routine. The Next Step comments on how well he is dancing; LOD wins and moves on to the small group round. Eldon admits that he forgot to check who he is up against in the male soloist round, so he and James go to check the board in the lobby. They see that Eldon will be competing against Superstar Dance and, furthermore, Daniel. Just then, Daniel arrives and rudely assures Eldon that he will beat him.
Eldon is waiting for his solo and is incredibly focused. While him and the rest of the team wait backstage, Kate wishes Daniel good luck, and Daniel does not reply, as he thinks that she is psyching her out. Kate and Chris hug and exchange hellos. Moments later, Daniel goes on-stage. The Next Step dancers admit that he has stepped his game up and is dancing at a whole other level than before. Although his performance is exceptional, Eldon is confident that he can beat him.
Eldon goes onstage. As he dances, he confesses that his dance is just like his experience at The Next Step: things started out fine, drama began, and in the end everything fell full circle. He dances phenomenally, as said by many of his fellow dancers and watching him, Daniel realizes that he was overconfident during his performance. Eldon gets a standing ovation from the audience. When it is time for the results, the judges reveal that The Next Step is moving on to the small group round. Daniel is angered at the result, as he tried so hard to be perfect and still isn't; he runs off-stage and through the double doors leading to the backstage area. The Next Step celebrates Eldon's win.
The after-party ensues. Daniel approaches Giselle and greets her. Giselle congratulates Daniel on how good his solo was and Daniel apologizes for his coldness towards her earlier, for which Giselle is thankful. Just then, a man comes over and asks if he may speak with Daniel. The newcomer introduces himself as Sergei, the head of Juilliard, one of the world's leading dance and music schools (which, for Daniel, will guarantee a career in dance), and invites Daniel to audition, leaving him with his calling card. Daniel is thrilled, and Giselle is very proud of him, as such an opportunity has been his dream for so long. Daniel confesses that it goes to show that you don't have to win to be great.
Cultural References
Edit
The title refers to a song of the same name by Simon and Garfunkel.
Recurring
Edit
Featured music
Edit
"I'll get to you when I get to you!" - The missing information in this section of the article is to be added.
Main article: Old Friends/Quotes
Aftershow
Edit
Main article: Old Friends/Aftershow
"Look at that painting!"

To view the Old Friends gallery, click here.
Ad blocker interference detected!
Wikia is a free-to-use site that makes money from advertising. We have a modified experience for viewers using ad blockers

Wikia is not accessible if you've made further modifications. Remove the custom ad blocker rule(s) and the page will load as expected.