"
Looks like it's me and you again, Eldon.
"
Click here to see more quotes.

"Old Friends" is the 29th episode in Season 2 of The Next Step and the 59th episode overall. It aired on December 5, 2014.
Synopsis
Eldon faces an old friend in his solo round at Nationals.
Plot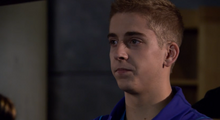 It is the second day of Nationals and the second day of the male soloist round, with thirty-two dancers left to perform. While A-Troupe is watching a soloist perform from the audience, James asks Eldon if he's nervous. James is initially concerned by Eldon's assertion that he isn't, but laughs it off upon Eldon's declaration that he'd be more nervous asking a girl out. Later, in the lobby, Giselle happily greets Daniel, not having seen him for a while. To her shock, she is brushed off by him. After exchanging a smile with a passing Chris, Giselle is consoled by Thalia. Daniel confesses that he doesn't want to be friends with anybody from The Next Step because Eldon got the solo over him and because he is no longer at the studio.
Watching the continuing solos, Riley comments that the dancers are killer and that she hopes Eldon can take his opponent down. Life of Dance's male dancer, Rocco, performs an exceptional solo and wins, letting his team qualify to the small group round. Just then, Eldon realizes that he forgot to check who he is up against in the male soloist round, so he and James check the board in the lobby. They are initially confused to find that Eldon will be dancing against a soloist from Superstar Dance, not recognizing the team, but Daniel's arrival confirms that he is Eldon's opponent. He assures Eldon that he will beat him.
Eldon waits in costume with Hunter in Dressing Room 4, immensely focused for his imminent solo. Eldon and Hunter eventually make their way to a wing of the stage, joining the other members of The Next Step, as well as the members of Superstar Dance. Kate wishes Daniel good luck, but is met with no reply, as Daniel thinks that she is psyching her out. Kate and Chris hug and exchange hellos. Moments later, Daniel goes on-stage and performs his solo which is far elevated from the past dances his former peers have seen him due. Nonetheless, Eldon is confident that he can beat him.
Eldon goes on-stage. As he dances, he confesses that his dance is just like his experience at The Next Step; things started out fine, drama began, and in the end everything fell full circle. He dances phenomenally, as said by many of his fellow dancers and watching him, Daniel realizes that he was overconfident during his performance. Eldon gets a standing ovation from the audience. When it is time for the results, the judges reveal that The Next Step is moving on to the small group round. Daniel is angered at the result, as he tried so hard to be perfect and still isn't; he runs off-stage and through the double doors leading to the backstage area. The Next Step celebrates Eldon's win.
The after-party ensues. Daniel approaches Giselle and greets her. Giselle congratulates Daniel on his solo and Daniel apologizes for his coldness towards her earlier, for which Giselle is thankful. Just then, a man comes over and asks if he may speak with Daniel. The newcomer introduces himself as Sergei, the head of Juilliard, one of the world's leading dance and music schools and invites Daniel to audition, leaving him with his business card. Daniel and Giselle are both thrilled, as such an opportunity has been Daniel's dream for so long. Daniel confesses that it goes to show that you don't have to win to be great.
Trivia
Cultural References
The title refers to a song of the same name by Simon and Garfunkel.
Cast
Main
Recurring
Absent
Guest
Other
Featured music
"I'll get to you when I get to you!" - The missing information in this section of the article is to be added.
Featured dances
"I'll get to you when I get to you!" - The missing information in this section of the article is to be added.
Quotes
Main article: Old Friends/Quotes
Aftershow
Main article: Old Friends/Aftershow
Gallery
"Look at that painting!"

To view the Old Friends gallery, click here.