Much of The Next Step fandom "ships" certain pairings, meaning that they vie for certain individuals pairings being together.
Some of these pairings are "canon." This means that these pairings are officially recognized couples on the show. There are pairings that are also formerly canon, meaning that they once were canon but broke up or ended their relationship. Other pairings are "non-canon," meaning that these pairings are not officially together on the show. Non-canon pairings can range from "baited"—the couple may eventually become official, or there are scenes that suggest they are an official couple—to "crack ships"—a non-canon pairing that is exceptionally outlandish and will likely never become official.
Pairings are often the source of passionate debate within the fandom, in which different Steppers vie for their pairings and sometimes claim theirs to be the one that is superior. This is especially prominent with pairings that contain James and Riley.
Pairings are usually referred to with portmanteau names that combine the names of the characters involved and, less commonly, a "/" between the names of the characters involved.
Canon
Currently
James and Riley – known as "Jiley" –  is the most popular pairing on the show, the one with the most longevity, and the only pairing with an official song (namely, "We Go"). Support for this pairing arose as early as after the airing of "Get the Party Started," when Stephanie suggests that Riley is blushing upon seeing James audition. Throughout Season 1, James consistently flirts with Riley and gains genuine feelings for her, of which she eventually reciprocates. Riley promises James that if he scores a 70% on a math test, she will go on a date with him, which eventually comes into fruition.[1] "First Date" marks their first date and kiss, and "We Are Family" marks the official start of their relationship. Although Jiley becomes official, their relationship is eventually threatened by Beth, James' ex-girlfriend who still has feelings for him. Riley catches James and Beth kissing one day while practicing a duet, and eventually breaks up with him.[2][3] Jiley's break-up sparked anger within the fandom, with some Steppers even threatening to stop watching the show if they did not get back together; the fact that their break-up lasted almost the entire span of Season 2 did not help the situation. Jiley eventually gets back together after James finishes a list to gain Riley's trust again, in "Just Dance," thus mending a large sever that had formed within the fandom. Their relationship continues with only a few minor predicaments until Season 4, when Alfie arrives and James goes to London for Bangers & Mashups International Hip-Hop Extravaganza.[4][5] Riley clearly begins to harbour feelings for Alfie, but tries to fight them, until "Heat of the Moment" when she kisses Alfie. Despite Riley's remaining love for James, and James forgiving Riley for cheating on him, Riley eventually breaks up with James to begin a relationship with Alfie.[6][7] Yet again, a sever was created within the fandom, with Steppers threatening to stop watching the show. Although James and Riley eventually reconcile in "Bold As Love," and James later gives Riley a promise ring,[8] criticism of the pairing remains. Many Steppers have complained that the show focuses too much on Jiley and ignores other main characters on the show, while others criticize Jiley for its seemingly toxic portrayal, especially due to its consumption by a younger audience.
Formerly
Noah and Amanda – known as "Nomanda" – is a formerly canon pairing, albeit an extremely unlikely one. Noah and Amanda bond over recording a song together, after which Amanda comes to realize that she has feelings for Noah.[16] Even Amanda recognizes how odd such an attraction is.[5] As Amanda and Noah spend more time together, Amanda's feelings for Noah only grow, although nothing of Noah's feelings is made clear to the audience until "On the Rocks." Much to his confusion, Noah feels guilty after lying to Amanda about his back injury, and comes to realize this guilt is a result of him liking Amanda. Noah confesses as much to Amanda and the two begin their relationship.[17] Many of Noah and Amanda's peers have commented on how strange their relationship, but this does not deter them from being together. Noah is initially very wary of kissing Amanda for fear of messing it up, but eventually gains enough courage and the two kiss.[18] Additionally, Noah eventually admits to Amanda that he loves her, which she says back some time later.[19][Reference needed] Although, the two eventually break up for unclear reasons.[20] Nomanda is a pairing that many Steppers opposed. Some are Nochelle shippers who believed this pairing to be standing in the way of Noah and Richelle being together. Others believed the ship to be inappropriate, as Amanda appears physically older than Noah – even though the show-runners have officially commented that they are both high school-aged, this has not deterred Steppers from believing the pairing to be predatory. A small minority also believed this pairing to be abusive, due to Amanda's apparent coddling of Noah and the fact that Amanda has hit Noah.[21] Despite this criticism, Nomanda is still a popular pairing, possibly even due to its oddities.
Riley and Alfie – known as "Ralfie"  – is a pairing that blossoms while James is in London. Alfie develops strong feelings for Riley, which she reciprocates. Although, Riley refuses to initiate a relationship with Alfie due to being studio head and James' girlfriend.[22] Nonetheless, Riley and Alfie kiss after Alfie performs a song for Riley.[23] During this time, Ralfie hangs in the balance between canon and non-canon, up until Riley officially breaks up with James.[24] While their relationships runs smoothly for a while, it eventually becomes clear that they have lost the spark that they once possessed. Thus, Alfie suggests that they go on a trip and tells Riley to meet him at the airport. As opposed to meeting Alfie at the airport, Riley takes a flight to London and reconciles with James without telling Alfie. Alfie waits at the airport for hours but, heartbroken that Riley is not showing up, takes the jet back to Switzerland.[25] This ship has been both met with visceral responses from Steppers; while the majority of Steppers do not ship Ralfie, many Jiley shippers defected into following Ralfie. Oddly enough, this ship awakened an anti-Jiley sentiment that was not nearly as present or strong before; some claimed it to be an omen that Jiley is toxic and should not reconcile, while others thought the rising of this pairing showcased that the writers care far more about recycling plotlines involving James and Riley than creating creative storylines.
James and Beth – known as "Jeth" – is a formerly canon pairing. James and Beth dated before the show, but broke up when James advanced to A-Troupe.[26] Although, the pairing reemerges after Beth kisses James under Riley's watch.[27] After Riley breaks up with James, Jeth becomes canon.[28] While the relationship initially runs smoothly, their incompatibility becomes exceptionally clear to James as the relationship continues. Although, Beth's love for James never wavers and she is unable to understand when James attempts to break up with her on several occasions. James tries to get Riley back, while Beth remains blissfully unaware and in love, even regularly wearing an "I'm with James" shirt. It is Hunter who helps Beth see that James wants to be with Riley, not her. Beth, while heartbroken, ultimately decides to let James go because although she loves him, he loves Riley more.[29] While fans were definitely not keen on Jeth due to it standing in the way of Jiley, it did have a cult following, and did not inspire nearly as much in-fandom friction as Ralfie.
Non-canon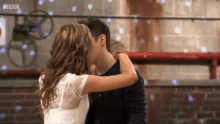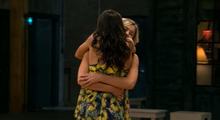 Stephanie and Michelle – known as "Stephchelle"  – is a popular non-canon ship. Stephanie initially hated Michelle, because Emily did. However, they become friends again when Stephanie returns to the studio in "First Date". In Season 3, they begin growing closer, after Stephanie consoles Michelle about her parents' divorce[69], and Michelle helping Stephanie with her stagefright at Internationals.[70] Despite Stephchelle not being canon, many Steppers assure that it is, due to the intimate moments between the two characters. Another reason as to why Steppers dub the pairing as "canon" is because of many Steppers' headcanons that Stephanie is a lesbian and Michelle is bisexual.
Noah and Jacquie – known as "Noacquie"  – is a baited ship. The two first meet at a ballet workshop, and Noah immediately falls for Jacquie.[20] They grow closer and the romantic feelings become mutual. Among the fandom, his ship is moderately unpopular but does not receive as much hate by the Nochelle shippers that Nomanda did.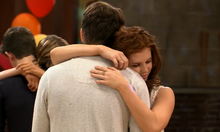 Theo and Giselle – known as "Thiselle"  – was meant to become a canon couple, but ultimately did not. Giselle's crush on Theo is revealed in "It's My Party," while he is performing at the party, allegedly singing a song to her. Theo later asks Giselle to dance with him, elating her. Although this couple had the markings of being a canon couple, it ultimately did not become one, in favour of Theo having a crush on Maggie on Lost & Found Music Studios.
John and Michelle – known as "Johnchelle"  – is a baited ship. On Lost & Found Music Studios, the ship is a major feature of the storyline, and it is during that show when it is revealed that Michelle and John both love each other. Despite this, nothing has become of their relationship after the series finale. They lack screentime in The Next Step, with a mere exchange of smiles in "The Edge of Glory."
References
Ad blocker interference detected!
Wikia is a free-to-use site that makes money from advertising. We have a modified experience for viewers using ad blockers

Wikia is not accessible if you've made further modifications. Remove the custom ad blocker rule(s) and the page will load as expected.