"Spoiler alert—he dies at the end."

This page contains prominent information about something that has yet to come, or that has been recently released. By choosing to read on, you are consenting to viewing possible spoilers.
"I think Kate and Chris's dance is great for two old people."

This article needs to be updated. This page is currently out of date and needs to be infused with recent information.
Piper is James's younger sister and a contemporary dancer in A-Troupe.
Biography
Before the Show
Piper dreamed of attending The Next Step Dance Studio, but never did because she feared that she would dance in her older brother James' shadow.[1]
Piper arrives at The Next Step's open house and approaches James, wondering where auditions for A-Troupe will be held.[3] She is pulled aside by James and advised not to audition as, according to him, the competition is cutthroat and he won't be there to look out for her.[1] Despite James' rebuke, Piper still decides to audition.[4]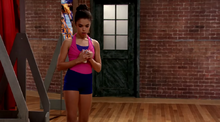 When Piper makes the team, she is excited, although incredibly nervous. Realizing that her fellow newbies Sloane, Cassie, and Amy are just as nervous as herself, she creates the Zero Percent Club in the hopes of getting their nerves to plummet to 0%.[4]
When Piper realizes that Sloane is wary about auditioning for the Regionals trio qualifier with her and Noah due to a lack of technique, Piper motivates her.[5] She is ecstatic when their group is picked to be the trio qualifier, even though it means that Richelle will be dancing in place of Sloane.[5] She is incredibly excited to dance at the qualifier, causing her to be all the more heartbroken when Noah's faltering results in them not qualifying.[6]
Piper is determined to be in the small group in the next qualifier. When she is pitted against Michelle for the final spot in the group, she is shocked at Michelle's antagonistic ways, so shocked in fact, that she completely messes up her solo and misses her chance at competing. After hearing Michelle's explanation though, Piper realizes that Michelle did what she did because the teams at Regionals will be even worse.[7]
With Noah's status up in the air, Piper is eager to re-audition for the qualifier duet with Alfie. She is angry and confused when Riley takes the opportunity from her so that she can dance in the duet, believing it to mean that Riley has no faith in the team. She is happy when auditions for the duet are re-instated.[8]
While rehearsing the duet with Alfie, Piper is shocked when Michelle pulls Alfie aside and orders him to be her duet partner. Piper confronts her and refuses to let her take Alfie as a partner, effectively deterring Michelle. Piper auditions with Alfie and is granted the opportunity to perform it at the qualifier, thrilling her.[9]
At night, Piper enters Studio A, only to see Riley and Alfie kissing. She is in disbelief and wonders how Riley could do such a thing to James.[9] Piper becomes closed off and reserved around the studio and refuses to be in the same room as Riley or Alfie.[10] When keeping the secret becomes too much, Piper finally confronts Riley; she tells her that she saw the kiss and that if Riley does not tell James about what she did, she will.[11]
Piper continues to struggle with the secret and accidentally tells Michelle about Riley and Alfie's kiss. She later receives a video call from James during which she breaks down into tears and tells him that she wishes he were there with her.[11]
Piper struggles to do the duet with Alfie. When she is confronted about this by Emily, she is sure that Alfie will be kicked off of the duet and replaced with a partner she deems as better. Piper is furious when she is taken off of the duet instead, and believes that Emily is rewarding a jerk.[12]
Personality
Piper is sensible, according to Riley.[1] She is kind, eager, and determined. She is a people person, much like her brother, and is able to motivate others easily.
Although, Piper is often naive and trusting, which causes her to be subject to shock and disappointment quite often. Piper is very sensitive and often lets her hurt feelings overtake her life, proven when she struggles with the duet after seeing Alfie and Riley kiss.[9]
Physical appearance
Characteristics
Piper resembles James, in that she has dark eyes, dark hair, and fair skin. She is very slim, small, and short.
Attire
Piper likes vibrant clothing. While dancing, she usually wears a tank top and shorts. Her streetwear consists of various prints, designs, and items; Piper can be found wearing pants or a skirt, as well as wearing cheetah print or rhinestones.
Abilities
Dancing
Contemporary
Piper's dominant style of dance is contemporary. She is very proficient at the style and has flawless technique.
Hip-hop
Hip-hop is not Piper's strong style. Although, after learning to do so from Sloane, Piper becomes proficient in tutting.[5]
Relationships
James
"
I can't believe Riley and Alfie are kissing. How could she do this to James?
"

James is Piper's older brother whom she loves dearly. When witnessing Riley kissing Alfie, Piper's immediate thought is of how it will affect James.[9] Piper becomes so upset about what Riley did to James that she is even found crying in the bathroom by her mother.[10]
Riley

Piper holds a lot of admiration for Riley and regards her as a "big sister"[1] whom she holds in higher regard than even her biological sisters.[13] Because of Piper's high regard of Riley, she is all the more distraught when she finds Riley kissing Alfie.[9]
Appearances
Dances
Solos
Duets
Trios
Group dances
Quotes
Gallery
"Look at that painting!"

To view the Piper gallery, click here.
References
↑ "Rumour Has It." Wikia. Retrieved on October 21, 2016.
↑ "One More Time." Wikia. Retrieved on February 15, 2016.
↑ 4.0 4.1 "Welcome to the Jungle." Wikia. Retrieved on March 4, 2016.
↑ 5.0 5.1 5.2 "Square One." Wikia. Retrieved on March 11, 2016.
↑ "Simple Twist of Fate." Wikia. Retrieved on April 3, 2016.
↑ "The Game Belongs to Me." Wikia. Retrieved on May 6, 2016.
↑ "How Deep Is Your Love." Wikia. Retrieved on June 20, 2016.
↑ 10.0 10.1 "Kiss and Tell." Wikia. Retrieved on October 15, 2016.
↑ 11.0 11.1 "Rumour Has It." Wikia. Retrieved on October 15, 2016.
↑ "Karma Police." Wikia. Retrieved on November 26, 2016.
↑ "I Only Have Eyes for You." Wikia. Retrieved on July 20, 2016.
Ad blocker interference detected!
Wikia is a free-to-use site that makes money from advertising. We have a modified experience for viewers using ad blockers

Wikia is not accessible if you've made further modifications. Remove the custom ad blocker rule(s) and the page will load as expected.