"
Don't you think I know that I have a hard time connecting to people, Noah?
"

— Richelle, recognizing her stand-offish nature, "It's All Fun and Games..."
Click here to see more quotes.
Richelle is an acro dancer who is the dance captain of TNS East.[3]
Richelle is initially a thriving J-Trouper whose greatest aspiration is to be the dance captain of A-Troupe.[4] Richelle eventually makes it onto the troupe, more determined than ever, but loses the captaincy to Skylar.[5][6] Richelle is eventually made dance captain of TNS East.[3]
Biography
Before the show
Richelle did gymnastics, but started dancing when one of her friends started doing it.[7]
Richelle joined J-Troupe and was a member of the troupe for a while.
Richelle auditions for A-Troupe and makes it as far as the choreography round, but does not make it onto the troupe.[8]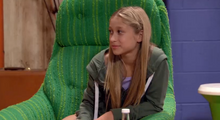 Richelle is outraged when she learns that the current J-Troupers must reaudition for the troupe, and even tries to persuade Kate to give them guaranteed spots. When this doesn't work, Richelle is forced to re-audition, and remains on the troupe.[7]
Richelle is mentored by Emily. Richelle picks her brain for tips on how to be a successful future dance captain.[4]
Richelle competes alongside Becca and Josh in a trio competition in which they place seventh.[9]
Richelle is envious of Noah when Kate provides him with the opportunity to be on A-Troupe. She questions Kate about the decision, but does not initially break Kate's resolve.[10]
Although, she is able to compete in the dance battles with Emily can no longer dance.[10] Despite an almost equal performance to her opponent, Max, Richelle does not make it onto A-Troupe.[11] Nonetheless, her commendable performance causes Kate to promote her to B-Troupe.[12]
Richelle is given the dance captain diary by Emily, which she uses to gain as much knowledge as she can about holding the title.[13] When Giselle struggles with being dance captain, Richelle gives diary.[14]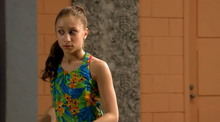 Richelle eventually discovers that she has a crush on Noah, much to her chagrin as she believes it will distract her from her dancing and since he clearly has feelings for Abi.[15]
Richelle competes with Max in a duet competition and places first, which inspires Phoebe to have A-Troupers and B-Troupers perform duets with each other.[16] Richelle is paired with Noah, which displeases her since she was just getting over him. Although, after encountering a number of Noah's irritating habits, Richelle realizes that she no longer has feelings for him.[16]
Upon A-Troupe's trouble with registering for
Absolute Dance Internationals
, Richelle is paired with
Skylar
to perform a duet to cleanse the studio. Richelle finds the idea ridiculous, but partakes in it nonetheless.
[17]
Richelle is determined to finally make it into A-Troupe and ultimately succeeds.[5] When auditioning with Michelle and Amanda for the Regionals trio qualifier, she is clearly the shining star. Her performance results in her to be put in the winning trio in place of Sloane.[18] At the competition, Richelle is irate when Noah fumbles during the routine, causing them not to qualify.[19]
Richelle is concerned for Noah when she discovers that he has to get back surgery, but assures him that he will get through it.[20] Richelle visits Noah in the hospital where she meets Amanda in the waiting room. After finding out Noah told Amanda to leave his room, Richelle advises Amanda; she tells Amanda of how she did not want any of her friends to visit her in the hospital when she got her tonsils removed because she looked like a chipmunk, and claims that Noah is just proud.[21]
Richelle runs for the title of dance captain against Skylar and Amy. Although Richelle is determined to get the title, she loses out to Skylar due to her conceit and fear factor. Despite losing, she is congratulatory of Skylar.[6]
Richelle makes it onto A-Troupe[22] and is made dance captain, much to her excitement.[3] She is immediately wary of Lola's subsequent kindness toward her, believing it to be a means of sucking up to her for a featured spot in one of the routines. Although, after seeing Lola stand up for her and refuse a proposed solo, Richelle is willing to give their friendship a chance.[3]
Richelle is paired with Noah to compete at a duet competition and believes their rehearsal to be going well. She is therefore irate when Emily tells her that Noah believes she is having trouble connecting with him, not only because he didn't tell her himself, but because she and he both know she has trouble connecting with people.[23]
Personality
Richelle initially appears as a confident keener. Her greatest ambition is to become the dance captain of A-Troupe and she is willing to do just about everything to achieve this dream. Richelle can be close-minded and wary of change, shown in how angry she is when the members of J-Troupe have to re-audition for their spots.[7] Despite her apparent conceit and bossiness, she struggles with certain tasks, such as: getting people's attention[4] and bargaining.[7] Richelle is willing to listen to others' advice if it will benefit her, as she deeply respects her superiors, but she still struggles with criticism.[24]
Richelle displays a large amount of envy when she has a crush on Noah, as she continuously gets jealous when she sees him interact with Abi. Richelle views her temporary crush on Noah as a hindrance rather than a normal emotion, even deeming infatuation as the reason A-Troupe loses dancers.[25] She genuinely cares about Noah nonetheless, although selfishly; she has stated that she wants Noah to be happy, but not with Abi.[15] Otherwise, Richelle is very much a lone wolf and has trouble connecting to people.[23] Richelle can be prissy, dramatic and judgmental, exemplified with how disgusted she is at Noah's habits.[26]
Richelle's determination and conceit reach all-time highs in preparation for her A-Troupe audition. She goes out of her way to display her expertise and revels in the intimidation of her peers that results from her dancing. But, since Richelle is obsessed with perfection, she is able to commend others on their successful dancing. In fact, Richelle can be quite empathetic and rarely harbours genuine ill-content; her greatest flaw, perhaps, is her inability to make her words reflect her mind-set.
Physical appearances
Characteristics
Richelle is exceptionally tiny, both in build and height. She has fair skin and green eyes. Richelle initially has straight dirty blonde hair, which is dyed brown in Season 3 as well as occasionally curled. In Season 4, her hair reverts to blonde but is noticeably thicker and wavier than it is in Season 2.
Attire
Richelle usually wears sleeveless shirts and leggings or shorts when dancing. In the earlier seasons, Richelle wears vibrant colours. Richelle wardrobe grows noticeably darker with her admission into A-Troupe.
Abilities
Dancing
Emily has claimed that Richelle is a technically amazing dancer, even better than Noah in some cases, therefore she may consider Richelle to be the best dancer in TNS East. [23]
Relationships
Main article: Richelle/Relationships
Appearances
Dances
"I'll get to you when I get to you!" - The missing information in this section of the article is to be added.
Solos
Duets
Trios
Group dances
Trivia
Richelle loves unboxing videos.[27]
Quotes
Main article: Richelle/Quotes
Gallery
"Look at that painting!"

To view the Richelle gallery, click here.
References
Ad blocker interference detected!
Wikia is a free-to-use site that makes money from advertising. We have a modified experience for viewers using ad blockers

Wikia is not accessible if you've made further modifications. Remove the custom ad blocker rule(s) and the page will load as expected.