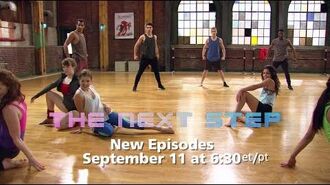 0:10 - 0: 11:0:03 - 0:06: A-Troupe is performing a routine (presumably for Absolute Dance Internationals) in Studio A.
0:07 - 0: 16: A plane flies through a sunset and footage of a Miami skyline and an aerial view of a beach full of people are shown. Amanda, Max, and Cierra walk on the Internationals premises in track suits, followed by a series of unknown dance troupes, and lastly, A-Troupe bowing onstage. In the background, Chuck Anderson says: "Welcome to this competition, here in Miami, site of the Absolute Dance International Championships. It's going to be something else."
0:17 - 0: 21: A-Troupe performs another routine in Studio A with Giselle at the forefront.
0:22 - 0: 24: The rest of A-Troupe seems to be celebrating while Stephanie walks off, upset, with Michelle watching her leave. The dialogue in the background is between two people; the first person says: "You have to be strong," with the second person (conspicuously Michelle) answering, with tears in her voice: "I can't help it, I just feel alone."
0:26 - 0: 27 : Riley and Ella are sitting across from each other with Riley's face looking pensive (she is also holding a container full of orange slices). In the background dialogue, Ella can be heard; she says: "I just think it's ridiculous for you to be waiting around for James to be ready."
0: 28 - 0: 30: The video cuts to Riley and James performing a duet on the Internationals stage. There is a fade-away to Riley walking out of Studio A, leaving James behind. In the background, he can be heard saying: "I can't believe Riley just walked out on this..."
0:31 - 0: 32: A-Troupe is performing a routine in Studio A. James is still speaking in the background, a continuation of his previous soliloquy; he says: "...things are just falling apart."
0:32 - 0: 36: A close shot of Eldon, with a determined face, in the Internationals premises is shown. In the background, Noah says: "Eldon thinks he's going to teach me a lesson, but he has no idea how good I am" over the course of the next few scenes: an unknown troupe goes onstage, Max lifts Richelle, Noah and Eldon flip in unison, and A-Troupe is rehearsing once again.
0: 37 - 0: 43 : Giselle performs a solo on the Internationals stage, A-Troupe performs in Studio A, a duet with members from an unknown troupe commences, Eldon stands onstage with a pointed foot in the air and the audience cheering, James and Riley perform a duet, and the aforementioned unknown dance troupe continues their duet.
0: 44: Thalia ecstatically hugs Eldon and he hugs her back. Stephanie, Michelle, and Amanda are also in the scene, clapping and cheering. They all appear to be wearing The Next Step full track suits, except for Eldon, who is wearing only a blue t-shirt (Thalia is holding a track jacket which could be Eldon's). In the background, a group of unknown and blurred individuals are also clapping and smiling.
0: 45: Amanda, West, Giselle and Stephanie walk on a beach in Miami.
0: 46 - 0: 47: In the background, James says: "It's about time that we resolve this." Daniel smiles before walking away, and James dips Riley in what seems to be a restaurant.
0: 48 : An unknown dance troupe performs on the Internationals stage.
0: 49 - 0: 50: Riley and James stand on the Internationals stage, forehead-to-forehead. In the background, Riley says: "I really, really don't want to let go."
0: 51 - 0: 52: A-Troupe dances in Studio A with Riley at the forefront.
0: 53 - 0: 54: Giselle performs the aforementioned solo on the Internationals stage, an unknown dance troupe performs, and somebody holds Giselle back as she angrily glowers at an unidentifiable dancer.
0:55 - 0: 57: West flips off of a wall, an unknown troupe performs on the Internationals stage, and a group consisting of: James, Riley, West, Giselle, and Max also performs. A different unknown troupe then performs.
0: 58 - 1: 03: A-Troupe finishes their routine rehearsal in Studio A. In the background, Eldon says: "This is Internationals, nothing else matters."
Ad blocker interference detected!
Wikia is a free-to-use site that makes money from advertising. We have a modified experience for viewers using ad blockers

Wikia is not accessible if you've made further modifications. Remove the custom ad blocker rule(s) and the page will load as expected.