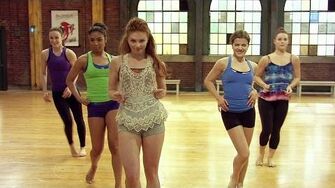 This page is about the show's third season trailer analysis. No predictions are allowed at the moment. Please post them in comments below.
Trailer Analysis
0:00-0:09: The trailer begins with Amanda, Thalia, Giselle, Riley, James and Chloe dancing, with Eldon in the background. We are then shifted to Eldon and Thalia dancing a duet.
0:10-0:19: Riley is seen dancing with another man while wearing a puffy dress. Emily and West do some ballet exercises. A J-troupe member dances. Chloe, Amanda, Riley and Eldon are all seen dancing alone. We are then shifted to James and Riley. He grabs her hand and twirls her to drag her somewhere. Another scene with James and Riley shows, with James shocked about something Riley has said.
0:20-0:29: James is seen with the same man as Riley was visiting, presumably a tailor man. James is wearing a cowboy outfit. Hunter, Eldon and West are dancing whilst a band plays their music. James and Riley practice their duet. Chloe and Eldon dance together at the A-Troupe auditions with a new member trying out. Eldon storms out of the auditions. James and Riley are presumably on a date, when James is shocked by seeing something or somebody.
0:30-0:39: Next to Thalia, Giselle is in front of Daniel with other A-Troupe members clapping, assumingly a romantic moment has happened between them. In her solo confession, Giselle is seen emotional in a positive way and smiling. Chloe and Kate hug in a positive manner. Emily gives her sister a "exactly" look, and leaves. Riley is seen frustrated or upset. At the studio, Michelle overhears a conversation between Amanda, Tess and another Elite Dance Academy member. Thalia looks upset at Culture Shock. Eldon looks down at the studio. James and Riley hug as if something bad happened. Michelle is seen crying in Culture Shock, with Chloe by her side.
0:40-0:49: A-Troupe members do flips. Eldon and Michelle are sitting next to each other, talking and smiling. James, Eldon, West, Hunter, Chloe, Thalia and Michelle are relaxing in the main studio. Amanda laughs. James is seen dancing again. Giselle and Riley dance as well.
0:50-0:59: Eldon, James, West and Hunter are dancing their small group. Chloe is beside Michelle, and she is upset by something Michelle says. Amanda, with Tess and another Elite member, is seen shaking her head the girls, possibly refusing to return to Elite, and she walks away from them. James calls Eldon, and he tells him something that makes Eldon stop. In Culture Shock, Margie joins Chloe and West, showing them something. In Kate's office, Lucien attempts to take away the Nationals' trophy away from her, but she retrieves it back. Eldon and West twirl.
1:00-1:09: Riley hits James with a rolled paper, because of something he said, while waiting for something. Back in Kate's office, a blonde girl hugs a small brunette girl. The boys are practicing their small group again with Riley watching. A girl dances with a guy standing in the corner, watching her. Stephanie dances in a studio. Michelle and Giselle happily hug. Chloe squeezes a member's face. James, Eldon and West sneak up behind a member with a chocolate cake. Eldon runs in Culture Shock, in a hurry for something.
1:10-1:19: Riley and James practice their duet again. James, Hunter and West (Eldon not shown) practice their small group once more. Set back from the first scene in the trailer, Thalia, Giselle, Riley, Chloe and Amanda dance together with James and Eldon watching them. We are now brought to a competition, with a studio doing flips. Everyone in A-Troupe (Emily and Michelle not shown) run to Amanda to hug her. We are shown a studio dancing at a competition. James and Riley (presumably) are painting each other while wearing a white costume guard.
1:20-1:31: We are transported to another studio performing a dance at a competition. The boys are practicing their small group again. Three more studios perform at a competition. A wedding scene is shown. Chloe twirls Margie at the main studio for A-Troupe. Another studio performs at the same competition. Someone shuts off the lights at the main studio of The Next Step.
Ad blocker interference detected!
Wikia is a free-to-use site that makes money from advertising. We have a modified experience for viewers using ad blockers

Wikia is not accessible if you've made further modifications. Remove the custom ad blocker rule(s) and the page will load as expected.