This article is about the character. You may be looking for the actress. You can find the disambiguation page here.
Skylar is a contemporary dancer as well as a former member of B-Troupe, A-Troupe and Elite Dance Academy.
Skylar is a forced to dance battle against her older sister, Cierra, for a spot on the Internationals, but loses.[3] Skylar eventually joins B-Troupe, but is frustrated with having to sacrifice her time in favour of Cierra's strenuous dance schedule.[4]
Despite initially wishing to be captain of her rugby team, Skylar decides to audition for A-Troupe instead.[5][6] Skylar makes it onto and stays on the team despite her sister's wishes, and eventually becomes dance captain.
Skylar confidently auditions for A-Troupe the next dance season, and is irate when she does not make it and is sent back to B-Troupe. Refusing to remain on the inferior troupe, Skylar leaves, vowing to find a better studio.[7]
Biography
Before the show
Skylar attended Elite with Cierra. At some point, she went to Nationals.[2]
Her parents got divorced and she helped Cierra get through it.[8]
At one point, Skylar got bullied so badly that Cierra had to walk her home from school everyday.[9]
Skylar is excited when she is picked to participate in the dance battle, but is soon filled with dread when she is pitted against her sister, Cierra. Knowing that their single parent mother cannot drive both of them to two separate dance studios, they decide to forfeit and return to Elite, but Lucien tells them that if they forfeit they won't have spots at Elite. The two are forced to take part, though in private, and Skylar loses.[3]
Skylar falls into despair because she now has nowhere to dance. Stephanie approaches her and Cierra and suggests that Skylar join B-Troupe. Kate agrees to this, and Skylar is overjoyed to be in the same studio as her sister.[4] Skylar auditions for A-Troupe again when Chloe leaves, but does not make it in.[10]
Skylar grows upset when she always has to wait for Cierra to finish dance practice in order to be picked up by their mom. Eventually, her mother decides that Skylar can be picked up when she is finished, and that if Cierra's practice runs later that she will have to take the bus.[11] She and Cierra eventually make up.[12]
When A-Troupe has trouble registering at Absolute Dance Internationals, Phoebe orders her and Richelle to do a "cleansing" duet. Although unsure if the duet will assist in any way, Skylar is eager to help and participates.[13]
Skylar decides to audition for A-Troupe as opposed to becoming captain of her rugby team. Skylar accepts a pact with Cierra that either both of them make A-Troupe, or neither does,[5] although, Skylar refuses to quit the troupe when she makes it, and her sister doesn't.[14] Nonetheless, Skylar complies with her sister's order to put in a good word for her to Riley when she leaves a spot open on the troupe.[14] In the end, the open spot is given to Amanda, upsetting Skylar.[15]
Skylar auditions for the trio Regionals qualifier with LaTroy and Henry, but their group is not chosen.[15] After seeing the chosen trio performing badly one day, Skylar proposes to Riley that her trio gets another chance. She is granted the opportunity to perform with her group once more but, despite her confidence, her group does not get chosen to perform at the qualifier.[16] When the chosen trio loses at the qualifier,[17] Skylar becomes determined to get Riley to resign as studio owner. Thus, Skylar tries to turn her fellow dancers against Riley. She holds a meeting about Riley's resignation, where she is confronted by Alfie. Upon the confrontation, Skylar decides to call off the meeting, but still expresses her undying wish for Riley to step down.[18]
Skylar begins to feel extremely lonely and defeated, especially after she doesn't get into the small group for the second qualifier. She is invited to join the Zero Percent Club, but declines due to her opposition to cliques. Piper assures her that the club is not a clique and Skylar reveals that her opposition to cliques is rooted in the bullying that she used to face. She declines the offer, but is happy to know that she isn't actually alone.[9]
Skylar runs for the position of dance captain. After successfully completing three tasks presented by Emily, Skylar wins the title, much to her elation. She is given the dance captain diary to assist her in her new role.[19]
Skylar attends the final qualifier. After observing Alfie and James fighting over who should perform the tie-breaking duet when the team ties with another, Skylar steps in. Skylar performs a successful solo that leads the team to victory.[20]
When there is a paperwork issue at Regionals, Skylar steps in and relinquishes the problem, allowing the team to dance without issue.[21]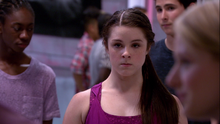 Skylar returns to audition for A-Troupe. Although she is confident that she will make the team and be dance captain once more, she ultimately does not and is demoted to B-Troupe. Skylar is irate at this situation and leaves the studio, vowing to find a better one.[7]
Personality
Skylar is a bubbly, sweet, and caring girl who is very eager to assist others.
On occasion, Skylar can be conniving and spiteful, but this is always backed up by good intentions. For example, when Skylar riles up a group against Riley, it is because she deems Riley unfit to guide the team.[18] Skylar genuinely cares about her teammates and their best interest, and knows all of their strengths and weaknesses, proven by how seamlessly she answers questions about them when running for dance captain.[19] Additionally, Skylar is very humble and genuine, especially when it comes to her abilities.
Skylar has an initial fear of speaking to strangers,[22] which appears to later be solved.[19] Skylar is a friendly individual, but she appears to be introverted and prefers to be alone at times.
Physical appearance
Characteristics
Skylar resembles her older sister in many ways; she has naturally dark brown hair, fair skin, and elfin features such as a round, rosy face, and a bulbous nose. Skylar has dark eyes and freckles. She has a stiff stature, possibly due to her participation in rugby.
Attire
While dancing with Elite, Skylar wears black dance wear. After entering B-Troupe, Skylar's dance wear transforms into clothing of vibrant colour and prints. Skylar's casual wear is also vibrant and colourful. As the series progresses, Skylar's dance wear and casual wear becomes darker.
Abilities
Dancing
Acro: Skylar is inititally introduced as an acro dancer. She is very proficient in the style.
Contemporary: Skylar is later deemed a contemporary dancer. She is proficient in the style.
Relationships
Main article: Skylar/Relationships
Appearances
Dances
Solos
Duets
Trios
Group dances
Trivia
Skylar likes baseball.[11]
Skylar used to play rugby.[5]
Skylar is a vegetarian.[25]
Although Skylar is introduced as an acro dancer, she is also said to be a contemporary dancer according to her Talking Heads caption.[16]
Quotes
Main article: Skylar/Quotes
Gallery
"Look at that painting!"

To view the Skylar gallery, click here.
References
Ad blocker interference detected!
Wikia is a free-to-use site that makes money from advertising. We have a modified experience for viewers using ad blockers

Wikia is not accessible if you've made further modifications. Remove the custom ad blocker rule(s) and the page will load as expected.