"Spoiler alert—he dies at the end."

This page contains prominent information about something that has yet to come, or that has been recently released. By choosing to read on, you are consenting to viewing possible spoilers.
"I think Kate and Chris's dance is great for two old people."

This article needs to be updated. This page is currently out of date and needs to be infused with recent information.
Sloane is a hip-hop dancer in A-Troupe and LaTroy's girlfriend and best friend.
Biography
Before the Show
At Sloane's first dance competition, she was in an Adam-and-Eve-themed duet with the cutest boy in the studio. At the point where she was supposed to give her partner the apple, it ricocheted off of him as he performed a series of spins, bounced off of three kids' heads, and hit the judge in the face. Needless to say, she and her partner were disqualified.[1]
Another time, Sloane forgot to bring her costume to a dance competition and dances in her skinny jeans, which proved uncomfortable.[2]
While at this studio, Sloane danced with LaTroy.[3]
Although she struggles with the
contemporary
choreography in the audition,
[4]
Sloane makes it onto
A-Troupe
.
[5]
However, she remains nervous about the fact that she only does
hip-hop.
In an attempt to ease her nerves, Sloane becomes a member of and joins
the Zero Percent Club
.
[5]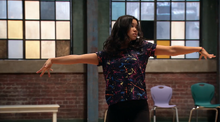 Sloane is wary of auditioning for the Regionals trio qualifier with Noah and Piper because they are both contemporary dancers, but is motivated by LaTroy and Piper. To her surprise, the trio goes extremely well, to the point that Sloane is sure it will get chosen. Surely enough, her trio is the winning one, although she is replaced in favour of Richelle..[6] Discouraged yet again, Sloane seeks advice from Michelle, and is encouraged to persevere.[7]
Sloane is jealous when she discovers that LaTroy is going on a date with Amy, but cannot initially pinpoint why. Sloane comes to realize that her jealously is a result of her having romantic feelings for LaTroy. Regardless of her attraction, LaTroy does not reciprocate these feelings and goes on dating Amy, causing her friendship with both parties to deteriorate.[8]
Despite their shaky friendship, Sloane is still upset when she discovers that LaTroy is leaving the studio to renovate an old farmhouse with his dad. To hide her sadness, Sloane initially greets LaTroy with hostility. As LaTroy is about to leave, though, Sloane sadly embraces him and begs him not to go, but quickly resorts to anger once more when he tells her he must leave anyway.[9]
Sloane continues to evade and reject Amy, but admits that she still loves her.[Reference needed] When forced to clean the mirrors in the Rehearsal Room with Amy, Sloane finds herself laughing with her. After some coercing from Amy, Sloane finally agrees to be her friend again.[10] However, Sloane isn't as keen about rekindling her friendship with LaTroy. She initially refuses to speak to LaTroy over video-chat when Amy suggests that she does so. Although, Sloane eventually decides to have a conversation with him, during which she apologizes to him. Despite the conversation being awkward, Sloane deems in to be a start.[11] Sloane soon realizes that she wants to be best friends with LaTroy again and, with Amy's help, tells LaTroy as much.[12]
Sloane is elated when LaTroy returns to the studio, but still struggles pushing her romantic feelings aside. Despite how painful it is to pretend she only cares for LaTroy as a friend, Sloane does so for the sake of saving their friendship.
Sloane is racked with nerves when she is spontaneously given the solo at Regionals. These nerves mixed with the lack of confidence Riley has in her lends Sloane to starting her solo quite poorly. Eventually, though, Sloane is able to become comfortable and dance excellently. It is not until Sloane is far into her solo that she realises she is doing the choreography from her music video with Jude which is forbidden. Despite breaking the rule, Sloane believes that her infringement may blow over so long as nobody notices. Sloane wins the round, but is disqualified from the competition once it is brought to the judges' attention that she cheated, meaning that she cannot compete in any other rounds at the competition. Sloane is left devastated at what she did, but is comforted by LaTroy. It is during this time that LaTroy admits to her that he loves her. Sloane is elated that LaTroy finally reciprocates her feelings, but is wary since he is still dating Amy.[Reference needed]
Personality
Sloane is willing to please, but can come off as awkward or unintentionally rude. She is initially a bit of a coward, who is wary of the unknown and prone to doubting herself, proven when she considers bowing out of the trio with Piper and Noah because they are contemporary dancers.[6] Sloane can also be quite envious.
Sloane is very motivational and encouraging, often deeming things she likes as "sick." She is genuinely caring and empathetic, which sometimes comes force through anger, as seen when she yells at LaTroy for leaving to be with his deadbeat father. Although it often takes time, Sloane can recognize when she is at fault and is willing to forgive those who have wronged her.
Sloane becomes more confident in herself and her dancing as the show progresses, and attempts to put herself out there more.
Physical appearance
Characteristics
Sloane has tan skin, dark eyes, and dark wavy hair. She is short in stature.
Attire
Sloane's wardrobe is quite vibrant. Sloane wears bright colours like pink and blue in the studio. Outside of the studio, she also wears clothes that have a plethora of design on them, such as plaid.
Abilities
Dancing
Hip-hop
Sloane's dominant style is hip-hop.
Languages
French
Sloane is fluent in French.[13]
Relationships
LaTroy
LaTroy is Sloane's best friend. Sloane comes to realize that she has unrequited romantic feelings for LaTroy and, thus, a strain forms in her relationship with LaTroy.[8]
Nonetheless, it is apparent that Sloane still cares about LaTroy, as she is distraught when she discovers that LaTroy is leaving to renovate a farmhouse with his dad.[9]
Appearances
Dances
Solos
Duets
Trios
Group dances
Quotes
Gallery
"Look at that painting!"

To view the Sloane gallery, click here.
References
Ad blocker interference detected!
Wikia is a free-to-use site that makes money from advertising. We have a modified experience for viewers using ad blockers

Wikia is not accessible if you've made further modifications. Remove the custom ad blocker rule(s) and the page will load as expected.