Squeezed
is a juice bar that has been renamed multiple times.
Squeezed is a juice bar that the owner creates after returning from Orange County.[1] Although the store appears to be quite popular, James later comments that the store is going downhill.[2]
The juice bar is later renamed and re-purposed into Culture Shock.
Description
Edit
Squeezed is a juice bar located under Studio A. It is a very vibrant and colourful store, equipped with multiple seating areas.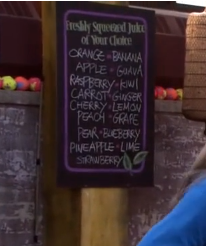 Very Berry[3]

Contains strawberries, blueberries, wildberries, and other berries

Peach Grape

257 calories
Contains six peaches and nineteen grapes

Mango[3]
Guava[3]
Peach Mango[3]
Carrot Tomato[2]
Apple Guava
Raspberry Kiwi
Carrot Ginger
Cherry Lemon
Pear Blueberry
Pineapple Lime
Strawberry
Orange Banana
"Look at that painting!"

To view the Squeezed gallery, click here.
References
Edit
↑ 1.0 1.1 "Here Comes Your Man." Wikia. Retrieved on October 29, 2016.
↑ 3.0 3.1 3.2 3.3 The Next Step - Favourite Drinks. Youtube (Feb 21, 2014). Retrieved on February 13, 2016.
Ad blocker interference detected!
Wikia is a free-to-use site that makes money from advertising. We have a modified experience for viewers using ad blockers

Wikia is not accessible if you've made further modifications. Remove the custom ad blocker rule(s) and the page will load as expected.