TNS is going to be preforming live all over Canada this winter! Check to find out when they'll be in a city near you! Tickets are now on sale The Next Step Live On Stage
Please read this blog about a missing cast member!!!!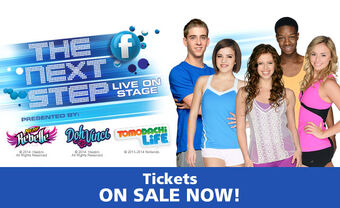 The Next Step is a show on Family Channel and is Canadian, unlike the majority of the shows on the channel. The show features dancer Jordan Clark who won on So You Think You Can Dance Canada season 4 and is a stuntswoman . It is on its second season, and audiences are seizing for more. This wiki is a place where you can find hard core fans of The Next Step. Don't forget to read the Rules and make suggestions on how to make this wiki better on the Suggestion Page. The Next Step is the second most popular show on Family Channel.
About
Season 1 Summary
The Next Step Dance studio is falling apart when dance captain Emily is threatened by new dancer Michelle. Emily changes everyone's lives in a troupe and some aren't happy about it. Replacing Emily as dance captain may be the solution. A-Troupe needs to resolve there issues if they want to win Regionals and compete in Nationals. If Emily and Michelle are fighting in Regionals, they better say hello the last place. Season 2 Summary
The Next Step is back, and tensions are high. New comers enter the dance studio and threaten to tear the team apart. Old flames come back into people's lives, and relationships are put to the limit. Who will break? And can the Next Step survive the rocky road to Nationals?
Do You Think The Dancing in The Next Step is Better Than Shake it Up?