"
I deserve to be here!
"
Click here to see more quotes.

"We Are the World" is the 26th episode in Season 3 of The Next Step and the 90th episode overall. It aired on November 13, 2015.
Synopsis
With the small group round fast approaching, Michelle, Giselle, Riley, and Cierra are angry to see that Stephanie isn't putting in as much effort as she should be into practicing. Meanwhile, Thalia must compete with four dancers from different countries in the first round of Internationals, and Eldon begins to suspect that her Polish teammate cares about more than just dance.
Plot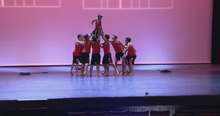 A-Troupe enters the auditorium to practice, only to find the Polish team dancing. Giselle confesses how amazing their dance is and, likewise, how amazing it is that they are all boys. As they perform, Eldon notices the male soloist and sees him as big competition that he needs to keep his eye on. Riley inquires if their team won last year because of how great they are, and Kate reveals that the Polish team didn't make it past the second round.
A-Troupe is waiting in the lobby when Giselle returns to them with new information. Riley reveals in Talking Heads that the Dance Captains are the first to know of upcoming challenges, and that teams must be prepared for anything. Giselle reveals that in the first round of the competition, 4 dancers from different countries will be put on a team, creating 40 teams in total. There are 160 countries at Internationals, and since only 4 groups go through, the amount of countries will be whittled down to 16 after the round. Since Thalia can greet in 56 different languages, she is delegated as the representative for the studio. Kate leads Thalia upstairs to where her team will be waiting. While in the presence of the Polish dancer (who happens to be the team's male soloist), Thalia overhears him talking bad about The Next Step Dance Studio, which she can comprehend because her mom is Polish. Thalia approaches the dancer and says to him, in Polish, that despite him having never heard of their studio, they will be the team that crushes his in the next round. Subsequently, the dancer is shocked to hear that she can speak Polish. The dancer inadvertently apologizes.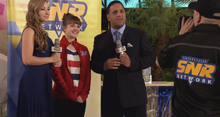 Meanwhile, Michelle and Riley are walking through the lobby when they see Ashley Leggat and Chuck Anderson preparing for an interview. As the two walk on, Ella approaches Riley who responds with instant hostility. Ella tries to reason with her, but Riley isn't having it and assures Riley that her team will beat them fairly. Just then, Ella's teammate pulls Ella away to be interviewed by Ashley and Chuck. During the interview, Ashley asks Ella how she came up with the choreography, and Ella lies that she created it while on the exchange program. Watching on, Riley begins to wonder if she would have been Miss Internationals Soloist if she had performed the solo.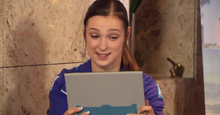 Back at the studio, Skylar, Jake, Camille, Richelle, Gabi, and Abi are finishing their leader board which displays all current standings in the Internationals competition. As Camille colours the title, Cierra requests a video chat. Skylar and some of the others chat with her about Internationals and reveal their leaderboard which Cierra loves.
Stephanie, Riley, Giselle, Cierra, and Michelle are practicing their small group, as the round will follow the 4-country dance. As the practice unfolds, it is obvious that Stephanie is marking the routine. At last, Giselle confronts her and Stephanie claims that she needs to save her energy and needs something to eat. Giselle permits her to get a snack, but is still wary. Riley suggests that they replace her with another dancer, and not wanting to go down that path, Michelle decides to go talk to her.
The Polish dancer reveals to Thalia that he can speak French and successfully communicates with the French dancer. In addition, the Vietnamese dancer can speak French. Thalia assures that she can take it from there. Before leaving, Kate attempts to bid farewell in a "foreign" language and fails.
Chuck and Ashley introduce the first round of the competition. The first group, consisting of the countries Ghana, Malta, South Africa, and Estonia, performs. Meanwhile, Thalia and her team are choreographing their dance which is going well.
Michelle finds Stephanie sitting in the lobby, reading a magazine. Aggravated, Michelle discards of the magazine and notifies Stephanie that they are moments away from replacing her. Stephanie does not see that as such a bad thing, as the pressure of the competition is getting to her. Michelle realizes that Stephanie doesn't feel as though she deserves to be on A-Troupe. At this, Michelle stands and yells "Hi everyone, we're at Internationals and I deserve to be here. So does my friend Stephanie, but she won't say it." Stephanie, upon some prodding, yells something along the same lines. Satisfied, Michelle goes with Stephanie back to rehearsal, Stephanie now feeling better.
Thalia's team is taking a break and Thalia is hanging out with Bartek. As the two sit and converse, Eldon shows up and gets suspicious upon seeing the two getting along so well. Bartek, spotting Eldon, warns Thalia that a weird guy is staring at her; Thalia turns to see Eldon and explains to Bartek that he is her "almost" boyfriend.
The team consisting of a Slovenian dancer, Spanish dancer, Chinese dancer, and Australian dancer is performing with Thalia and her fellow dancers warming up back-stage. The team finishes their dance and receives a score of 95, putting them in fourth place. Eldon and James arrive to the opposite wings of the stage, and Eldon is frustrated to see Thalia and Bartek bonding again. James thinks that Eldon is over-reacting.
Back at the studio, the leaderboard has been updated. Cierra videochats the dancers and as she does, Michelle tells Cierra that Thalia will be performing soon. Before sending off, Michelle is shown the leaderboard and notices that the fourth place team has 95 points, meaning that Thalia's team must score higher than that to qualify to the next round. Michelle relays this to Thalia who relays this to Bartek, who furthermore relays this to the rest of the team. Finally, Thalia's team goes on-stage. They perform a spectacular routine to "Unusual Mind" that warrants a standing ovation...and 96 points! Eldon is happy that The Next Step is moving on, but not that Bartek is.
Trivia
Thalia's mother is Polish.
Thalia can speak fluent Polish.
By the end of the episode, there are now only 16 countries at Internationals.
As proven by the meeting of all of the Dance Captains in the next episode, Thalia is the only one in her group who is not the Dance Captain of their team.
Continuity
Errors
Thalia is put into the dance because she can say "hello" in 56 different languages. By this philosophy Eldon could have been picked too, because Michelle says in "You're the One That I Want" that Eldon can say "thank you" in 15 different languages, although, this is never brought up.
When dismissing Kate's exclamation, Thalia speaks to Bartek in English despite Bartek not being able to speak the language.
Cultural references
The title refers to a song of the same name by Michael Jackson.
Cast
Main
Recurring
Absent
Guest
Featured music
"I'll get to you when I get to you!" - The missing information in this section of the article is to be added.
Featured dances
"I'll get to you when I get to you!" - The missing information in this section of the article is to be added.
Quotes
Main article: We Are the World/Quotes
Aftershow
Main article: We Are the World/Aftershow
Gallery
"Look at that painting!"

To view the We Are the World gallery, click here.